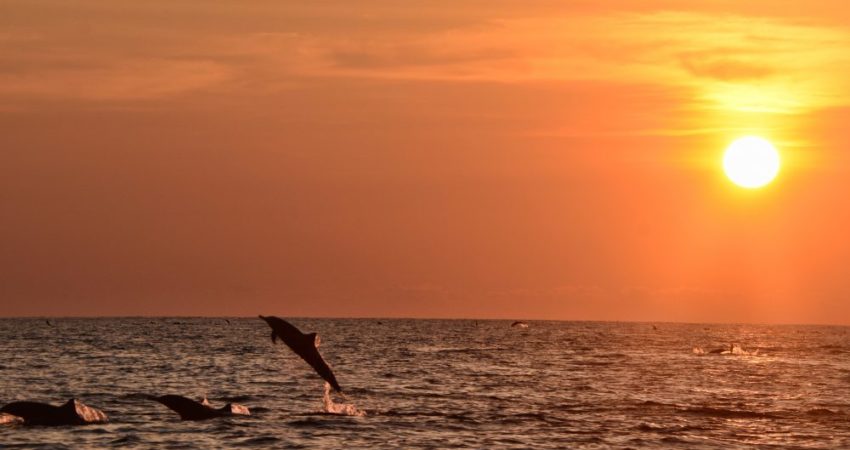 The Dolphin Breeding Ground Debacledolphins deserve our protection, an ongoing petition regarding a new development is misleading, according to the author Todd Staley

This fisherman is about to open a can of worms here for the second time.
The first time was when I agreed with a national legislator who suggested opening the National Parks to sport and small-scale artisanal fishing. Thirty-eight NGOs screamed, "No!" I suggested they open them and charge a fee to fish there to raise money for enforcement patrols, which were, and still, are nearly non-existent.
Here I go again, about to raise the hair on the backs of the necks of many in the environmental crowd. It started when a post hit my inbox with a petition sponsored by Planet Rehab.org on the Change.org website, which allows anyone in the world to start an online petition for free. This petition urged people to help stop a Hilton Curio hotel from being built in Puerto Jiménez, in the country's Southern Zone.
The petition's headline read, "Prevent Hilton from building a hotel on top of a Dolphin Breeding Ground." The sub-headline that followed was a stern message to Hilton which read, "Hilton, we're breaking up with you, so we can save the dolphins before it's too late!" Over 50,000 people have signed the petition, and they appear to be gaining more signatures every day.
A very wise man once gave me some very sage advice when he told me, "Always put your cards on the table, because once they are on the table, they are off the table." So here come my cards.
I am very well-versed on this subject. For the last 18 years I have walked the pier at Crocodile Bay as Fishing Director, sending thousands of tourists out sport fishing. The Crocodile Bay property is the site where the Hilton will be built. I also know the person behind the petition very well. After five decades on the water, I also know a little bit about dolphins.
If you think I am going to defend the Hilton project in this article, you will be sorely disappointed. The developers are big boys and can do that for themselves. Because I spend a lot time working with marine conservation and am employed by the developers, people often corner me looking for my opinion. I have never given an opinion pro or con; it's not my place to defend the project. What I have defended against many times is fabricated statements from environmental zealots who prey on uninformed or uneducated people to support their opinion for whatever their cause is.
The Change.org petition states that the area in question is "essential for the reproduction of many marine species, potentially destroying endemic dolphin breeding grounds and putting all aquatic marine life in imminent danger."
It continues, "This large-scale Hilton Hotel Botanika Resort can only be stopped by an urgent appeal to the directors of Hilton Curio Worldwide, alerting them to the potential damage their project will cause."
The key word in both those statements is "potential." It is a word that can be used as a giant loophole to cover one's tail when making outlandish statements.
Maybe I could post a petition on Change.org to my own advantage. It would read something like this. "Todd Staley is a fisherman and mediocre writer. He has a couple of tattoos and on the weekends when it is not raining, he rides his Harley Davidson. Staley could potentially roust up a bunch of bikers and pillage your pueblo. Please donate today to buy him a new boat to keep him on the water and off the street."
I slowly waded through many of the comments left by people who signed the Hilton petition. After I got through the vulgarities and the threats to never sleep in a Hilton again, I stumbled on some I really liked:
"Please verify the findings on marine biologists for the claim in this petition and look to relocate to a less fragile location."
"This is unacceptable if these dolphins loose there breeding ground were would they Go, for all we know if would take them years or months to find a new place to breed and are dolphins would be more endanger then ever."
"Apparently they ( Hilton) did not research this very well to even think about building on a Dolphin breeding ground."
And my personal favorite, "Dolphins are people too."
Why is that my favorite? Because "dolphins are people too" is a lot closer to the truth than anything else I read. After observing dolphins while fishing for over fifty years, I decided to ask some marine experts, "What exactly is a dolphin breeding ground?" I sought the opinion of a marine biologist, a marine mammal expert, and a woman who has worked alongside dolphins and whales here in Costa Rica for years.
They told me that reproductive habits of dolphins are not defined exclusively by the need to perpetuate the species: like humans, these cetaceans mate for pleasure with individuals of the opposite sex, of the same genus or even a different species from their own, so talking about reproductive habits in strict terms does not apply to dolphins. Some researchers think that their recreational sexuality has social purposes. When a female feels she will deliver her calf, she tends to move away from her pod and separates herself to an area near the water surface to facilitate the first breath of her calf. There is no particular area dolphins go to mate or birth.
There are no dolphin "no-tell motels" or maternity wards. They mate whenever and wherever they happen to be when the mood hits them, and birth wherever they are when the time comes. There is no such thing as a "dolphin breeding ground."
If the people who posted that petition are really just concerned about dolphins, I suggest they push away their tuna salad and worry about the large pods of dolphins that are netted hundreds of times to catch the tuna that swim under them. The dolphins are later released. A few dolphins die in the process; I'm sure the dolphins don't like it. Thankfully, there is a fast-growing trend and demand for sustainably caught fish, and tuna fishermen are beginning to search out selective gear with little or no bycatch.
Anger or fear are great motivators. But in this case, 50,000 people – and counting – have been misled.
I really love conservation work. The politics of conservation can at times be quite frustrating, and the business of conservation can be at times disgusting. NGOs will sometimes work on similar projects but never communicate with each other for fear of losing credit for a success or even potential donor money. If they communicated, they could get things done faster and more cheaply, but conservation and environmental work are sometimes big business. Unfortunately, there are unscrupulous people out there who will misuse donor money or even advertise for fake causes to raise money.
Sadly, this "dolphin breeding ground" petition, and the reaction to it, only fortifies an opinion I have held for some time. That is the difference between a conservationist and an environmentalist: a conservationist makes decisions based on science, while an environmentalist at times makes science based on decisions.
Read Todd Staley's Wetline Costa Rica columns here.
Todd Staley has run fishing sport operations on both coasts of Costa Rica for over 25 years. He recently decided to take some time off to devote full time to marine conservation. Contact him at wetline@hotmail.com.
Read Blog Detail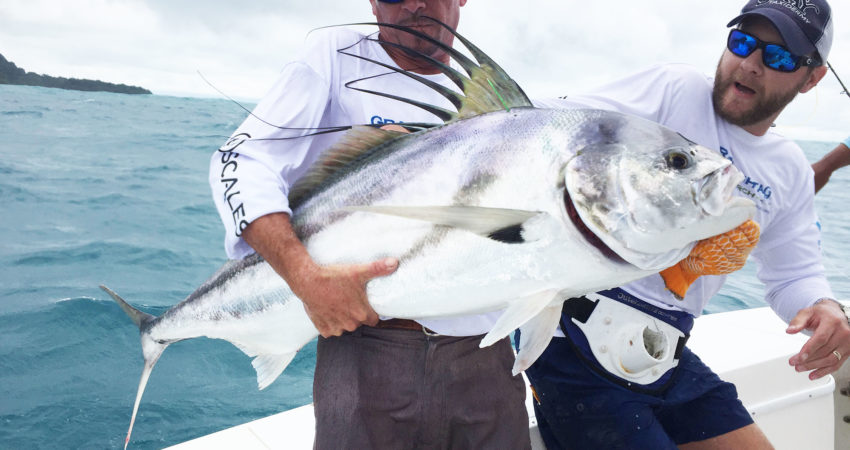 Tagging Roosterfish with Gray Fish-Tag by Todd Staley
I have never enjoyed fishing under pressure. I prefer to fish for fun. There was a time in my life I fished a few money tournaments and even won one or two. Nowadays, if I am fishing a tournament, it's a charity event, where the winners are generally children with illnesses.
Even when fishing a client, I like to fish with someone who was more interested in having a good time on the water rather than catching a ton of fish or a giant fish. A much better fisherman than myself who actually was just inducted into the IGFA Fishing Hall of Fame explained it very simply to me. Larry Dahlberg said, "Your chances of catching a really nice fish is directly related to how much you deserve it."
I have noticed over the years that a good attitude catches fish and a bad attitude eats dirt. One's relationship with the fish gods play a big part. Inexperienced anglers with good mojo have better luck than a good angler with a bad attitude.
On this particular day, the pressure was on. Gray Fish-Tag research center coordinator Bill Dobbelaer and marine scientist Travis Moore were down from Ft. Lauderdale to place another archival electronic tag in a roosterfish. Usually this would be a simple task, today was different. An ominous gray sky loomed on the horizon and the breeze was much stronger than usual for an early morning. We needed a fish around 30 lbs so it could comfortably wear the device that needed to be implanted.
 The event was co-sponsored by Crocodile Bay Resort and FECOP, the sport fishing advocacy and marine conservation group in Costa Rica. Crocodile Bay Resort's crew was Oldemar Lopez and Sharlye Robles. Anglers, Christian Bolanos from Gray Taxidermy in Quepos and myself. Capt. Lopez suggested we try Matapalo Rock a popular roosterfish at the mouth of the Golfo Dulce. The overnight showers had muddied up some other popular inshore spots so it made sense.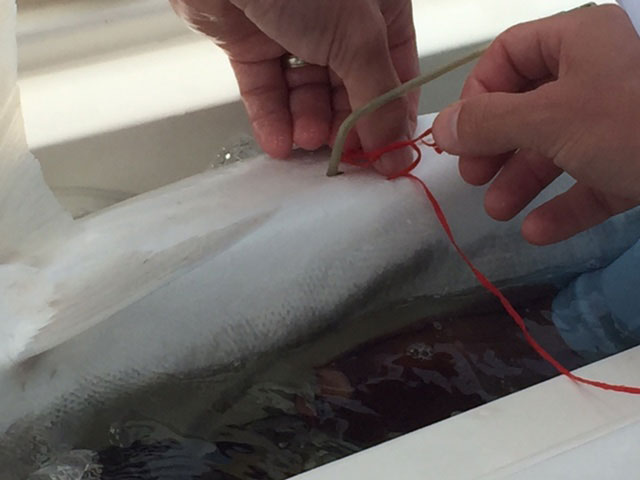 Roosterfish is the perfect choice for this kind of study. It is a strong fighting fish, popular inshore game fish and Gray Fish-Tag has already learned a lot about them from the traditional spaghetti tag. Because it is a coastal animal, a good number of tagged fish have been caught again. The spaghetti tag is inserted on the shoulder of a fish and has a serial number. The number is reported to the research center by sport fishermen who recapture the fish. With this method, the information is limited to where it was caught and what size it is. When recaptured we learn how much it has grown over the period of time between captures and how far it traveled. The electronic tag records much more information but the fish must be recaptured also. The success with spaghetti tags made it worth the bet because they cost $1500 a piece. Four have been placed first time around. One in Quepos, one in Herradura, and two in the southern zone around Golfo Dulce.
As we reached the mouth of the gulf we were hit by a wall of wind in our face. Still a half mile from Matapalo Rock we trudged on. As we finally arrived I thought about renaming the famous landmark, at least for this day, Whirlpool or Maytag. It stood like the spindle of a washing machine and the surrounding waters were in the agitate cycle. We worked a nearby pinnacle but it was almost impossible to do a decent drift over the spot. Over and over we worked the area, fishing with one hand and holding on with the other. Somehow the conversation turned to the relationship between biologists and fishermen. A lot of biologists have never fished and a lot of fishermen don't know the difference between an otolith and an eyeball. They are at times at wits end with each other because sometimes neither respects the opinion of the other. Travis laughed and said, "I can tell you a whole lot about roosterfish, but to be honest I have never caught one.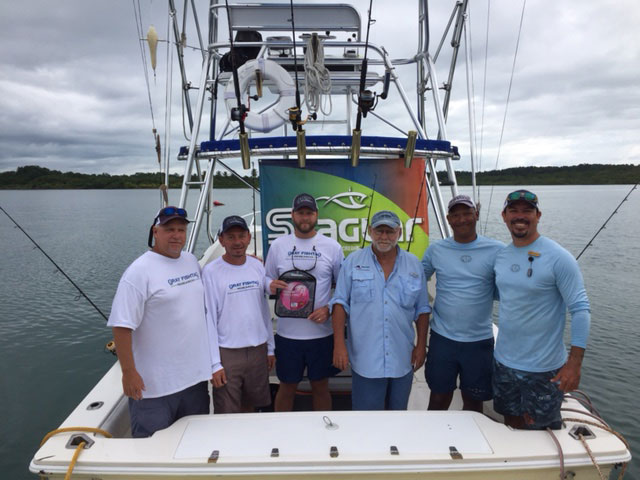 About that time Bolanos's rod twitched and then slammed down towards the water and line screamed of the reel. After a 20-minute balancing act he had a 35 lb roosterfish on the surface. Travis jumped into action, made an incision in the fish's belly and had the tag inserted and stitched up in less than two minutes while running water over the fishes gills. The rooster took off like he had a firecracker under his butt when placed back in the water. Mission Accomplished!
We had heard some chatter on the radio about a school of tuna working a couple miles off the beach so we ran out. We found the dolphins and tuna but the tuna wasn't interested in anything we had to offer. Then we made a unanimous decision. Let's go back to the rock and see if we can get Travis a rooster. Back to the washing machine!
It took about thirty minutes but finally Travis was hooked into his first rooster. He got the fish to the boat a dozen times and each time it would peel off another 50 yards of line. Eventually he had the fish to the boat and it went an easy 50 lbs. That is like winning the lottery the first time you by a ticket. I think we made a fisherman out of Travis. I know one thing. My biologist friend knew a hell of a lot more about roosterfish than he did when the day started.
Did you like this article? Get FECOP articles delivered straight to your inbox. Sign-up here you'll also be entered to WIN a fishing trip for two to Costa Rica and fishing apparel from AFTCO.
Read Blog Detail