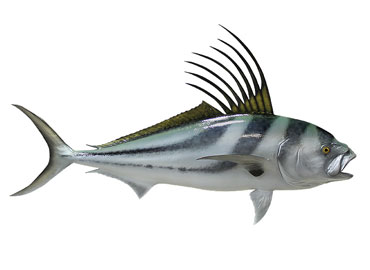 FECOP Sport Fishing Species – Roosterfish
Experience the thrill of the roosterfish, one the worlds most extreme fighting fish (pound for pound) in Costa Rica's inshore waters (catch and release species)
Unlike  pelagic species, roosterfish are found inshore and can be targeted year round in Costa Rica. Roosterfish average 10-15 lbs but individuals in the 40-60 lb range are not uncommon in Costa Rica's Pacific waters. These fish are caught inshore cruising reefs and are voracious predators. Roosterfish are considered to be one of the strongest and most exciting fighting fish in Costa Rica. Their meat is dark and not good eating and this is definitely a catch and release fish. These fish can be caught from the shoreline during changing tides near drop-off points on lures including poppers but live bait trolling seems to be the most productive method to experience a fight with these bruisers. Not only are these fish aesthetically pleasing to the eye…but unlike other inshore fighting fish they will take to the air on occasion making the experience that much more exciting for the angler. If you are going to photograph this fish, do it quickly and release as soon as possible. Especially with larger/heavier individuals as being out their buoyant environment is hard on the fishes internal organ structure.
The roosterfish, Nematistius pectoralis, is a game fish found in the warmer waters of the East Pacific from Baja California to Peru. It is the only species in the genus Nematistius and the family Nematistiidae. It is distinguished by its "rooster comb", seven very long spines of the dorsal fin.
Roosterfish Facts
The roosterfish has an unusual arrangement of its ears: the swim bladder penetrates the brain through the large foramina and makes contact with the inner ear. It uses its swim bladder to amplify sounds.
Roosterfish can reach over 1.6 m (5 ft 3 in) in length and over 50 kg (110 lb) in weight.[4] The weight of the average fish hooked is about 20 lb (9.1 kg). The fish is popular as a game fish, but it is not considered a good eating fish. The roosterfish is a catch and release species.
More Roosterfish Information
Costa Rica Hosts The First International Roosterfish Tournament Novemeber 2018
SAT Tag Recovered from Roosterfish off the Coast of Costa Rica
Read Blog Detail