Costa Rica Fishing – Deep Jigging Costa Rica Oddities
Article from Florida Fishing Weekly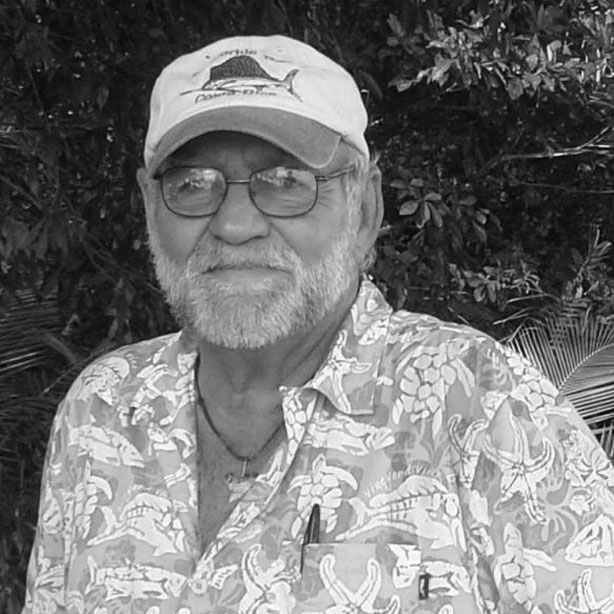 "Jigging the depths of Costa Rica's Golfo Dulce brings returns of grouper, snapper, African pompano…as well as a host of other strange-looking fish. Better yet, it's within sight of shore"
This is the time of year the rain forest shows its stuff on Costa Rica's southern Pacific coast. More than 20 percent of the annual rainfall comes in October. The Papagayo winds in Nicaragua have yet to blow, but when they do some time this month, the sailfish population will push to the South. Until the main body of sailfish arrive, marlin and dorado will be the primary targets for offshore anglers looking to troll. Anyone that fishes for marlin knows the Pacific is a big ocean, and locating fish is a matter of covering water and eliminating options. That means anglers have two choices; go hunting (for marlin) or go fishing (for other species). A patient angler will generally get his marlin. It might be like sitting in a tree stand all day waiting for that one big buck to walk by, but patience is typically rewarded in Costa Rica. And odds favor that the marlin will be substantial.
For those that aren't up for the hunt, they might want to go fishing instead. What I mean by that is, if action is more important than trophy, stay closer to shore this time of year and get in on the terrific bottom fishing.
Thirty years ago when I was dropping baits for grouper in the Middle Grounds off the West Coast of Florida, if someone told me one day I would be jigging with a fairly light spinning rod in 400 feet of water for grouper and snapper, I would have thought they were crazy. And if they told me I could see people walking on the beach while I was doing it, I'd have called for the straight jacket. But that's exactly what you can expect in southern Costa Rica. Bottom fishing in Costa Rica doesn't mean a run offshore. To the contrary, a mile offshore will put you in water deeper than you care to fish almost anywhere on the Pacific side. Fortunately, I live on one of four tropical fjords in the world. The depth of the entrance to the 30-mile long Golfo Dulce is around 150 feet. It then gets deeper the farther up the bay you go and has a hole up at the end of the bay that drops to 900 feet. Here as in many parts of the world, deep jigging has become one of the most successful ways to fool deepwater predators. There is a reason the military puts jigs in survival kits, that's because almost anything that swims will eat one.
Costa Rica´s volcanic terrain runs not only to the coast, but also forms some very interesting structures underwater as well. And the deeper you go, the more the menu changes. Cory Craig from Tropic Fins charters is a guy who came down to Costa Rica on a fishing vacation, and within a couple years was building a house and charter business at the same time. He has studied the inshore fishing well and is not afraid to try new methods. When Craig's charter landed a 60-plus pound roosterfish using a moonfish for bait, live moonfish became the hot offering, and everyone switched over to targeting roosterfish with these baits. Now Craig has taken his progressive methods into the bottom fishing realm. As far as deep jigging goes, the first hundred feet or so of water bring a variety of snappers, including the famous cubera, African pompano, broomtail grouper, roosterfish, amberjack, bonito and tuna. That's a large variety of hard-fighting and good-eating fish that can be caught within sight of shore.
Dropping deeper than 150 feet of water is like venturing in the twilight zone, where there's the potential to bring up fish you have never seen before. The Pacific red snapper is a good example of a species that won't be found in less than 200 feet of water, and like the American red snapper, this fish is great table fare. Gulf Coney, a strange but tasty grouper, will hit a jig in 400 feet of water. There are other grouper-type fishes that I have no idea what they are, and can't find them in books, but we catch them on a regular basis when deep dropping. Tilefish, rose threadfin bass and congria are other weird members of the deep-water clan that make the trip back to the dock and the dinner table.
All this great deep dropping action happens inside the Golfo Dulce, a short run from the dock, so if the offshore seas are rough or you want to break up a week of marlin fishing and change out to a
more action oriented trip, you just have to shorten the distance of your excursion. Depending on weather, your decision to opt for action or a short at a trophy, and your patience level, this time of year make the choice: Do you want to go hunting or fishing. In the Southern Pacific peninsula of Costa Rica, we can offer both.
Todd Staley has spent the last 18 years in the sport fishing business in Costa Rica, running fishing
operations on both the Caribbean and Pacific coasts.
Related Articles
Costa Rica Fishing Guide – Where to Go, What You'll Find
Read Blog Detail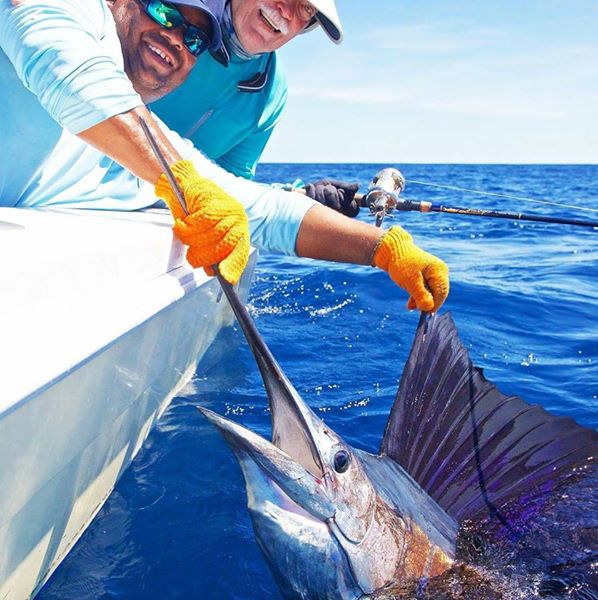 Why a Costa Rica Sailfish is Worth More Alive than Dead

Article courtesy www.larepublica.net
A study carried out by the Research Institute of Economic Sciences of the UCR, reports that in 2008 Costa Rica sport fishing as an economic activity contributed approximately $ 599.1 million, which represents 2.13% of the Gross Domestic Product (GDP) of our country (2008).
Another study by Southwick Associates Inc. estimated that "271,200 United States residents fished in Costa Rica" during 2009. Of those 271,200 Americans, 40% said they would not visit Costa Rica if they had not been able to fish. This means that in 2009, Costa Rica would have received 110,690 fewer visitors, which represents a loss of $ 128.7 million.
Fortunately, ten years later, Costa Rica continues to be a world-renowned sport fishing destination. However, our ability to retain this tourist segment is at risk due to mismanagement of species of sporting interest, such as sailfish, tuna and marlin.
This risk forces us to know in depth the contributions related to our economy of sport fishing and commercial fishing because both seek to extract the same species.
Therefore, it is necessary to reiterate the need for a strategy of integral management of species such as sailfish (Istiophorus platypterus) and blue marlin (Makaira Mazara) that seeks to maximize the creation of socio-economic value through the conservation of the fishing resource and the sustainable development.
For example, one day of sport fishing aboard a Costa Rican boat generates about $ 1,000, while one kilo of retail sailfish only around 1,776.6 colones (about $4). A good day of sport fishing consists of 10 sailfish caught and released alive, while a good day of commercial fishing consists of extracting these same sailfish to be sold at a very low commercial value.
The sport fishing sector provides formal and stable jobs, generates commercial clusters that benefit entire communities such as Herradura, Quepos, Golfito and Papagayo. Courtesy / La Republica
The sport fishing sector provides formal and stable jobs, generates commercial clusters that benefit entire communities such as Herradura, Quepos, Golfito and Papagayo, and additionally guarantees the conservation of species of tourist interest. Its tradition of capture and release has high survival rates, and the technical advances in the tools used in the capture have allowed to reduce the damage of these species to a minimum.
That is to say, the sport fishing is a sustainable model that includes the three fundamental axes: society, environment and economy.
In general terms, it is evident that the effect on employment and the economy is greater in the case of sport fishing than in commercial fishing and requires strategic attention.
Even, there is a great opportunity in this sector that we have not taken advantage of. Currently we only attract 3.6% of the fishing tourist population of the United States, while other countries such as Mexico manage to attract more than three times, thus generating profits well above ours.
It is clear that we must strengthen and develop the sector in such a way that we are able to attract more numbers of sports fishermen.
In conclusion, it is necessary that the commercial fishing sector and the sport fishing sector be complementary in order to maximize the opportunity of creating socioeconomic value for the country.
We can not risk losing the many benefits of of sports fishing tourism to Costa Rica

For Costa Rica, the opportunity is magnificent.
Enter your email below to receive more information regarding sustainable sport fishing projects and news from FECOP
Related Articles
Costa Rica Sailfish for Dummies
Costa Rica Fishing Species – Sailfish
FECOP to Assit in Tagging Marlin and Sailfish
Read Blog Detail
Costa Rica Fishing Guide: Where to Go and What You'll Find
Published by Todd Staley for the Tico Times
I remember years ago I would see an article about fishing in Costa Rica in a fishing magazine, or a television show about catching tarpon by the boat load in the jungle. It started a series of "bucket list" fishing fantasies in my head. I made my first trip to Costa Rica over 30 years ago, caught and released a ton of fish, and told all my friends when I got back to the States: "I don't know how yet, but I am going to figure out a way to live down there."
Twenty-seven years have passed since I moved to Costa Rica, and I have been fortunate enough to run world-renowned fishing operations over the years. Big fish tend to beat me up more these days than vice versa, but the fever for both the sport and the country has never left me.
Costa Rica has so much to offer all types of anglers that it is a shame not to experience it. Here is a rundown of some of the many sport fishing opportunities.

Freshwater:
Guapote (rainbow bass) are available in Lake Arenal, along with machaca, a relative of the South American piranha that is quite acrobatic when hooked. The rivers and lagoons in Los Chiles, which is in the Northern Zone, and all along the Caribbean seaboard have those species as well, plus tarpon and snook that also venture deep into the freshwater ecosystems. Several types of other cichlads, known as morjarra are found deep in the jungle and make for great ultra-light fun.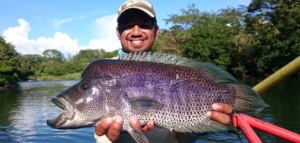 High in the mountains that divide the Pacific coast from Cartago, known as the Cerro de la Muerte, anglers will find wild rainbow trout in almost every creek. In that region, San Gerardo de Dota is a popular area and is also great for birdwatching species like the elusive quetzal. Fishing in a National Park is not permitted, so check that the area you are in is not park property.
If you would like to take the kids, there are trout hatcheries along the Pan American Highway, which runs through the Cerro de la Muerte. You can fish at those hatcheries and they charge you by weight. Stone Mountain Outdoors in Santa Ana has good information on trout fishing.
Saltwater:
The Caribbean side is world-famous for tarpon and snook. Tarpon school up outside the mouth of the river in pods that cover several acres. When it is hot, it is red hot and you will pull on big fish all day. As mentioned above, they will also enter the rivers and back lagoons.
The fishing in the ocean is done with lures or sardines on circle hooks. Inside the mouth of the river, it is almost always done with artificial lures. The late Bill Barnes made fly fishing for tarpon popular in the area.
Snook are also taken in the rivers and lagoons as well as the beach. There are four species of snook on the Caribbean side. The fat snook (calva) run that starts in December offers a chance to catch lots of snook on light tackle. It is a smaller species of snook and averages 5 to 8 pounds. The monsters that made Costa Rica famous in the fishing world are usually taken off the beach at the rivermouth. Rarely will you see lots of fish, but you have a chance to tangle with a once-in-a-lifetime fish of 35 pounds or more.
The Pacific side of Costa Rica boasts two fishing seasons, with the central and southern regions most productive November through April. In the north, the good bite is from May through December.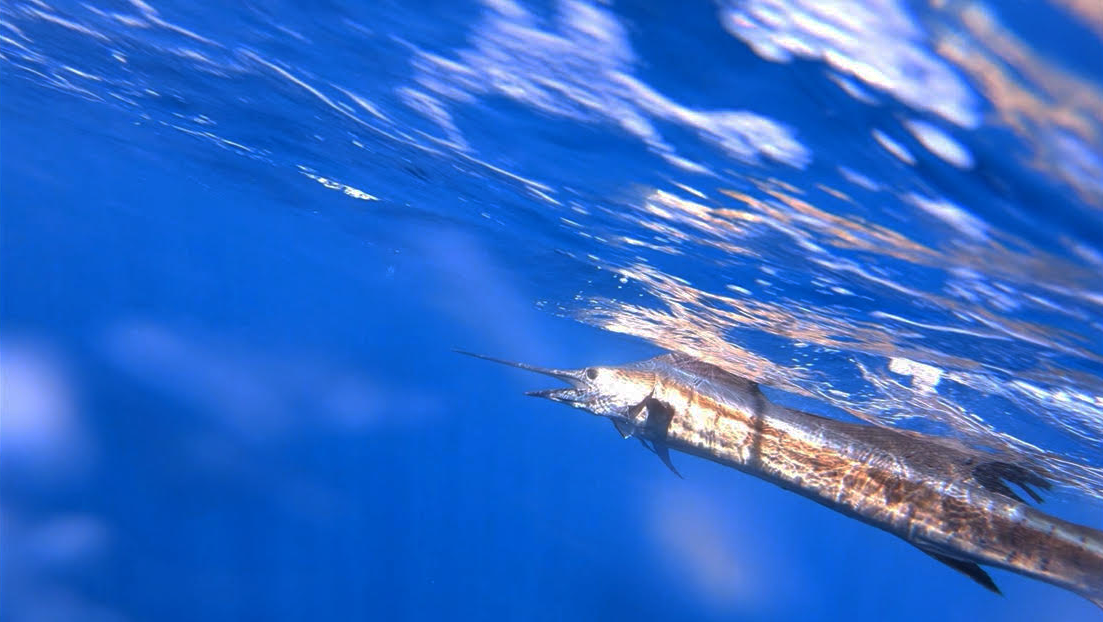 The last few years have seen record numbers of sailfish on the Pacific side. El Niño slowed the bite last year, but during the two previous years, records were broken for the number of releases in the Los Sueños and Marina Pez Vela tournaments. Last year in the Offshore World Tournament at Marina Pez Vela, the sailfish were noticeably absent, while marlin released records were crushed.
Dorado or dolphinfish have started off as a bang this fishing season, showing what seems to be a recovery of the stocks that migrate through here. Dorado is not only a beautiful fighting fish but also great table fare.
Also in the bluewater are marlin, tuna, and wahoo. Tuna have made a great comeback after the area in which purse seiners are allowed to work was reduced 200,000 square kilometers in 2014, and the reduction of purse sein licenses granted to foreign fleets was reduced from 43 to 13 in 2017. There have been phenomenal catches of marlin around man made marine eco-systems. You probably won't see a grander (a marlin over 1000 lbs) here in Costa Rica, but the Pacific offers blue, black, and striped marlin.
Roosterfish are the Holy Grail inshore on the Pacific side, and are available there all year, unlike other areas. The average is 10-15 lbs, but 50-lb fish are common. Also available inshore are a large variety of snappers, grouper, jacks, African pompano and others. When the water is clear, wahoo and dorado venture close to shore. Roosters, snook, jacks and snapper can be taken here casting from the beach.
Don't pass up a chance to fish in Costa Rica. And remember: a Costa Rican fishing license is required for all anglers over 16 years of age.
Todd Staley is a Tico Times columnist and director of communications for FECOP, a sport fishing advocacy federation recently chosen to represent Costa Rica in the Panamerican Sportfishing Delegation, formed by groups from the United States and all Latin America countries. One of the group's goals is to get sportfishing recognized as a competitive sport and to organize teams from various nations to compete in the Pan-American games. The group also seeks a common front on conservation issues. Costa Rica will host the Federation Assembly in November 2018 followed by a roosterfish tournament with competitors from the different nations. Learn more at www.fishcostarica.org
Related Articles
Costa Rica Sport Fishing- Sailfish for Dummies
Like Snook? Meet Costa Rica's Snook King
Featured Captain – Eddie Brown – The King of the Silver Kings
Read Blog Detail