Reader Not Fond of 'Torturing Fish' — but Sport Fishing in Costa Rica isn't The Problem
By Todd Staley from the Tico Times – Sport Fishing in Costa Rica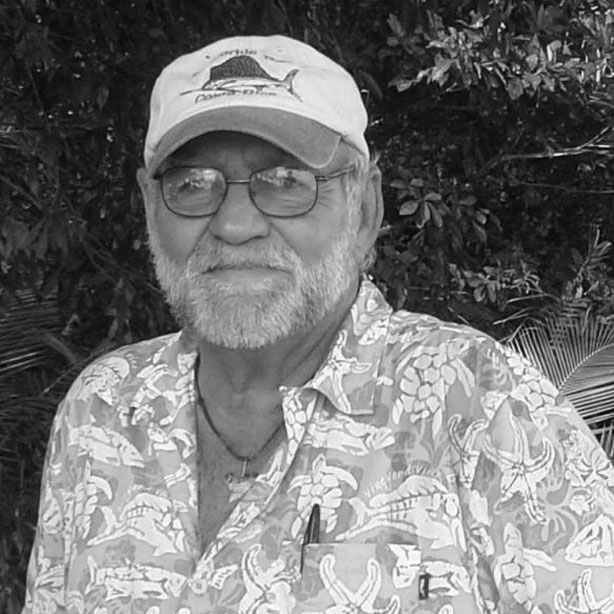 I started doing the fishing column for The Tico in Costa Rica Times years ago when it still had a print edition. Four years ago I went over the side of the aptly named Cerro de la Muerte, or Mountain of Death, and tumbled 200 feet downhill, nearly killing my wife.
I fell into a funk watching her suffer operation after operation. My close friends tried to convince me it was an accident, but I couldn't help feeling responsible, and the guilt was overwhelming. I lost the desire to write, along with many other things.
My wife is much better but will never be the same, and I eventually worked my way out of the funk I was in. Recently, Karl Kahler of The Tico Times interviewed me for an article he was writing, and I mentioned that I used to do the fishing column for the paper. He invited me to return.
Well, right out of the chute on my first report about the Offshore World Championship fishing tournament at Marina Pez Vela, I found a reader who was not so fond of me. Someone using the name Wigsy wrote in, saying:
"Regarding: 'Even though the numbers of sailfish were noticeably absent, the numbers of marlin caught were much better.' …For cripes sake, catching these fish (for sport?!!) injures them and causes trauma and stress at the very least. So much for eco tourism. And an Oil company sponsoring it. Obviously with this size of "tourny" Costa Rica's billfish population will continue to decline. They likely were forced to have the competition Offshore as it would be illegal to do so within the boundary limits. Time to get a new hobby, boys: how about bird watching (instead of torturing fish for fun)? Some people in Costa Rica need to fish in order to survive, making this sort of fiasco the perfect image of perverse excess. Obvious lack of any journalism in this article. (Perhaps it was written by the sponsors and should instead be labelled an advertisement.)"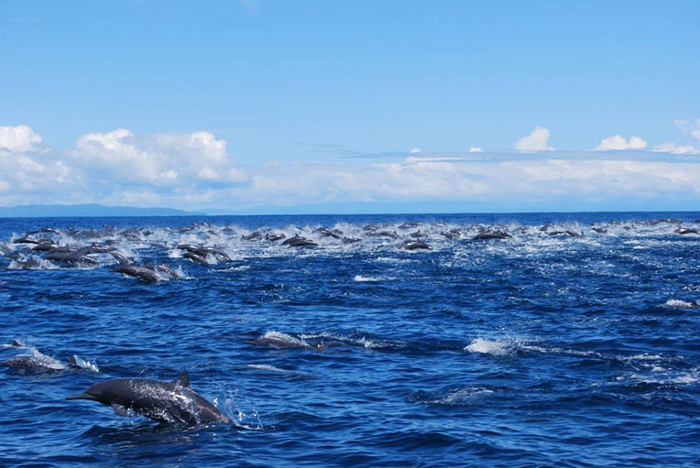 My guess is that Wigsy's father, grandfather, or even single mother, as in my case, never taught him how to fish. My mother taught me to respect and care for the ocean, to keep only what I needed and put the rest back. She also taught me the secret to happiness is doing something for others and not expecting anything in return, and that a man's ego is his worst enemy, so Wigsy's jabs at my lack of journalism skills didn't sting too badly.
I am an old Florida redneck fisherman. I talk like one and write like one. It is a language both male and female anglers understand. I never went to Harvard or Yale or any fancy journalism school. My universities have been the Gulf of Mexico, the Atlantic, the Caribbean and the Pacific, and I have been in class for over five decades. I have learned to love and respect the ocean and the fabulous creatures that live in them. I never leave port without God and the ocean goddess Yemaya in my vessel.
Wigsy, like many others, does not understand sportfishing and thinks it is just a bunch of rich Gringos coming down here to molest fish for fun. Sportfishing benefits many Costa Ricans. I have been in the sportfishing business here over 25 years and have employed over 1,000 Costa Ricans at a better than average salary with full benefits.
I have seen them build nice homes for their families and send their children to universities with their earnings from sportfishing. In fact, a study of social economics done by the University of Costa Rica showed that sportfishing contributed 1.2 percent of Costa Rica's annual $55 billion gross national product. Commercial fishing here contributes around .07 percent of the annual GNP.
Mark Twain taught me not to argue but rather educate. The part of Wigsy's note that struck a chord was "Some people in Costa Rica need to fish in order to survive." I assume he is talking about Costa Rican commercial fishermen, and he is absolutely right: they need to make a living. Where sport fishing is a sustainable activity with catch-and-release practices, commercial fishing is extraction.
A sailfish released by a sport fisherman is worth around $3,000 to the economy, while a dead sailfish off to the market is worth around $80. At the pace the world is going, experts say the world's fisheries will be almost completely exhausted by the year 2050. The problem is not commercial fishermen or sport fishermen. The problem is non-selective and non-sustainable types of fishing. Bycatch, the killing of non-targeted species while fishing for market species, is a major problem worldwide.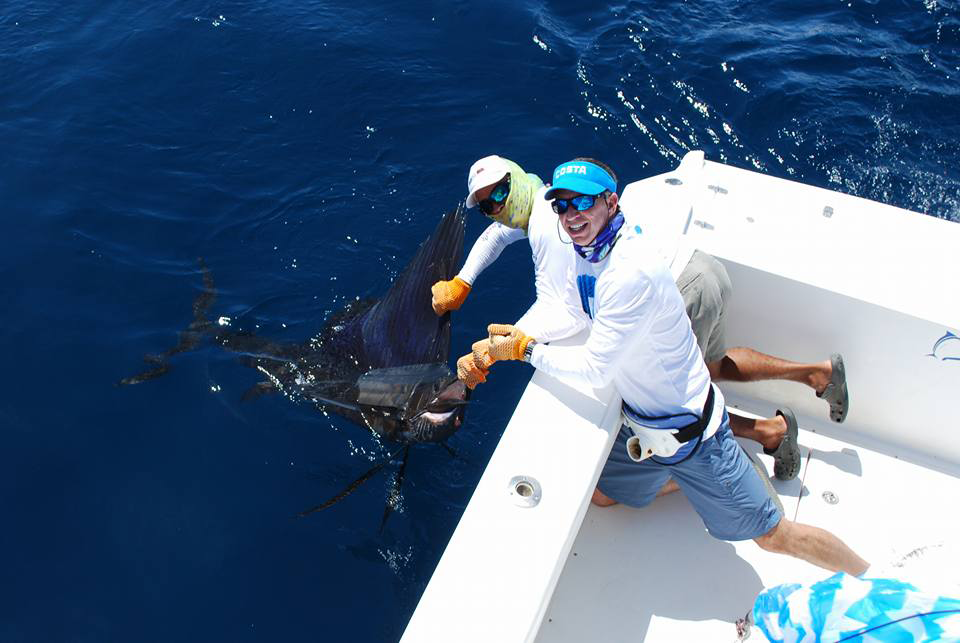 Almost everyone coming to Costa Rica likes fresh seafood and Costa Rica has some of the best. Not just fishermen, but also ecotourists and even birdwatchers want to eat seafood while they are here. One thing overlooked by most eco-resorts waving the sustainability banner is their restaurant menu. Are all items on the menu captured in a sustainable manner?
Many people have no idea how fish are caught in this country. Let's take a look.
Tuna Pursein Fishing

Yellowfin tuna have a symbiotic relationship with dolphins. If you see a huge pod of dolphins on the surface, the tuna will be below. Since 1950, over 6 million dolphins have perished in purse seine nets, and even though dolphin deaths are few these days, tell me if this practice deserves a "dolphin safe" label on the can.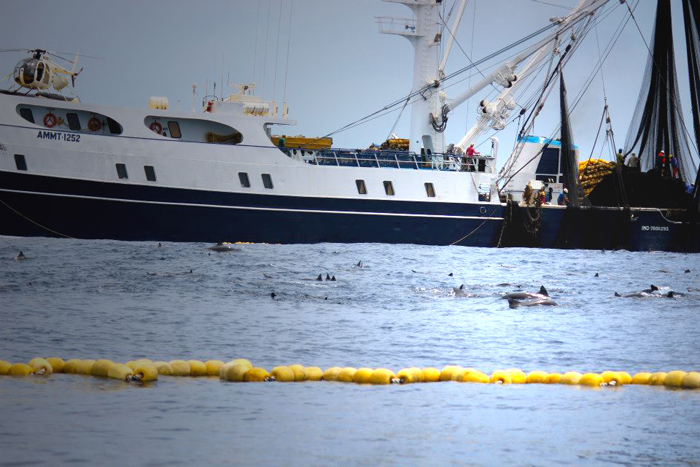 Tuna fishing vessel with dolphin chase boats circles dolphins off the Osa Peninsula
A helicopter takes off from the deck of a tuna boat and locates a pod of spinner dolphin. They begin to drop explosives, "cherry bombs," illegal but often used on the dolphins to move them in the direction of the boat. The tuna will follow. When in position the whole pod of dolphins will be encircled by the net. After the net is closed, workers on the boat will drop one end of the net to release the dolphins that did not escape by jumping over it, but pods are broken up, young are separated from their mothers, a few die and the rest are traumatized. How safe is that? Not to mention all the billfish, turtles, sharks, manta rays, dorado and wahoo that are discarded, dead, back in the ocean.
A project was started by the Costa Rican Fishing Association (FECOP), a Costa Rican sportfishing lobby, during the administration of President Laura Chinchilla (2010-2014) and finally signed by decree by President Luis Guillermo Solís, moving the purse seine boats out 45 miles from the coast and protecting other sea mounts for a total of more than 200,000 square kilometers protected from purse seine activity. They also supplied the science for the current proposal to reduce the tuna fleet from 44 licenses down to seven to nine, and the annual harvest from 23,000 metric tons down to 8,000.
Longlining in Costa Rica

Another non-selective type of fishing is longlining — laying a line of baited hooks on the surface from 10 to 40 miles long or longer, and hours later picking it up to retrieve the catch. Dorado and sharks are the target species but thousands of sailfish, marlin and turtles all perish as well. If the catch is poor they will keep the sailfish, which are required by law to be released if alive. If the catch is good the sailfish is sometimes left dead on the line because the carcass creates a shadow below, attracting dorado, and the rotting flesh attracts sharks.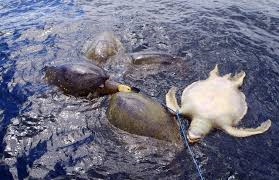 In January 2013 and again in November, there was an epidemic of dead sea turtles found floating in southern Costa Rica during two of the top months for dorado fishing. Nearly 400 turtles were discovered dead, and autopsies determined that longlines were to blame.
Using live bait on longlines has been a concern of sportfisherman, who say it increases the capture of non-target species like sailfish. INCOPESCA, which governs Costa Rica's fishing laws, did a test to see if live bait really increased sailfish mortality. They set lines off Quepos from Aug. 25 to 29, varying from 4 to 10 miles in length. Of course, they picked August, when there are very few sailfish around. At the end of their four-day test, they had caught 14 dorado, three sailfish, two thresher sharks, three manta rays and 41 sea turtles.
Shrimp Trawling in Costa Rica

This is probably the least sustainable type of fishing, where sleds drag the bottom, tearing up fauna and holding the nets down. For every kilo of shrimp caught, nine kilos of juvenile fish and other marine life die. Shrimping got so bad here that boats were targeting bottom species generally fished by the small-scale artisanal fleet. Shrimping has been banned in Costa Rica, with the last license expiring in 2019, but the shrimpers are lobbying with plenty of opposition to fish in a non-existent sustainable fashion.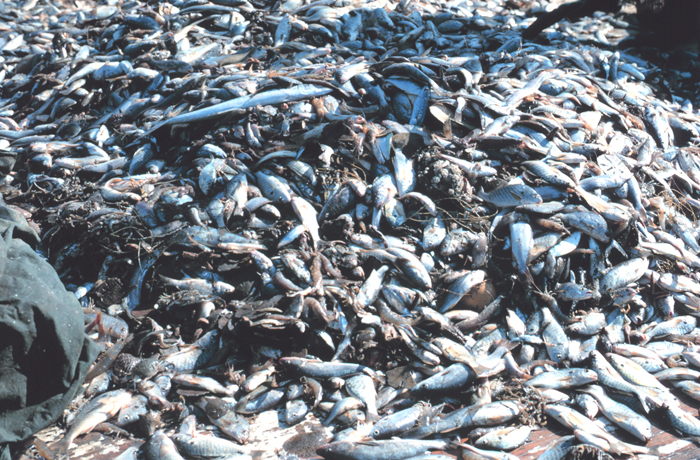 Our oceans can no longer support non-selective types of fishing. It is not about fat rich Gringos verses humble Costa Rican fisherman. It is about the very life blood of our oceans.
Todd Staley has run fishing sport operations on both coasts of Costa Rica for over 25 years. He recently decided to take some time off to devote full time to marine conservation. Contact him at wetline "at"hotmail.com
Related Sport Fishing Articles
Explaining The Costa Rica Tuna Decree
Costa Rica Sport Fishing – Sailfish for Dummies
Costa Rica Sailfish WANTED Alive!
Young Biologist Studies Sailfish
Read Blog Detail
C

osta Rica's Fishing Laws Allow International Fleets to Capture 95 percent of the Tuna Caught Within Costa Rican Waters

Costa Rica's laws allow international fleets to capture 95 percent of the tuna caught within Costa Rican waters, researchers from the National University (UNA) announced.

The figure is part of the research for a new book called "Characteristics of Tuna Fishing in Costa Rica" that researchers presented at a press conference on Wednesday.

The commercial value of tuna here is of some $62 million per year. Of this total, Costa Rica receives only $904,000 in licensing fees, the report states.

That means the country receives some $19 for each metric ton of tuna, which can reach a market price of some $2,000.

Official data from the Costa Rican Fisheries Institute (INCOPESCA) say that the estimated total catch of tuna here is 25,000 metric tons per year. According to the researchers' report, approximately 5,000 tons stay here for local distribution.

UNA researcher Olman Segura said that this situation "forces Costa Rica to import tuna every year, despite having plenty inside its territory."

The report notes that international vessels are using industrial purse seines with lengths of up to two kilometers (some 1.2 miles) and more than 200 meters (656 feet) in depth. The local fleet, however, is still using artisanal fishing techniques.

"Local artisanal fishermen catch in a year what these vessels can catch in just one trip," the report states.

Moreover, industrial fleets don't even process the tuna here. They take their catch to processing plants located primarily in Colombia, Ecuador, El Salvador, Guatemala and Venezuela.
Recommendations
The study urges the government to amend fishing laws in order to boost income for the country. They also recommend improved training for artisanal tuna fishers and the drafting of measures to promote tuna processing at local plants.
MARVIVA Director Jorge Jiménez Ramón said at the presentation that Costa Rica is giving away its fishing wealth.
"Instead of fostering a local fleet that can fish in a responsible way, we are allowing others to take our fish away from the country," he said.
Researchers also recommend updating license fees using a tonnage-based collection system as established by the Inter-American Tropical Tuna Commission. Updated fees, according to current standards, would provide an estimated annual revenue of up to $2.7 million, the report says.
Segura said that one of the main objectives of the study is to boost job creation in coastal areas, which include some of the regions of Costa Rica with the fewest job opportunities.
"We also aim to strengthen the work of INCOPESCA so they can improve their controls, especially over illegal fishing," he said.
New model
The report came just days after the Executive Branch announced it is drafting a decree to amend regulations on tuna fishing in Costa Rica.
INCOPESCA Executive President Gustavo Meneses said on March 7 that the new decree will outline the guidelines for a new tuna license-granting model based on scientific and technical criteria.
Meneses said they will also update fishing license fees according to current market standards.
"The new model seeks to rationalize the impact of purse seine tuna fishery," he said, adding that the plan will allow grant fishermen "a better chance of improving their catch, without compromising environmental balance."
Related Articles
Read Blog Detail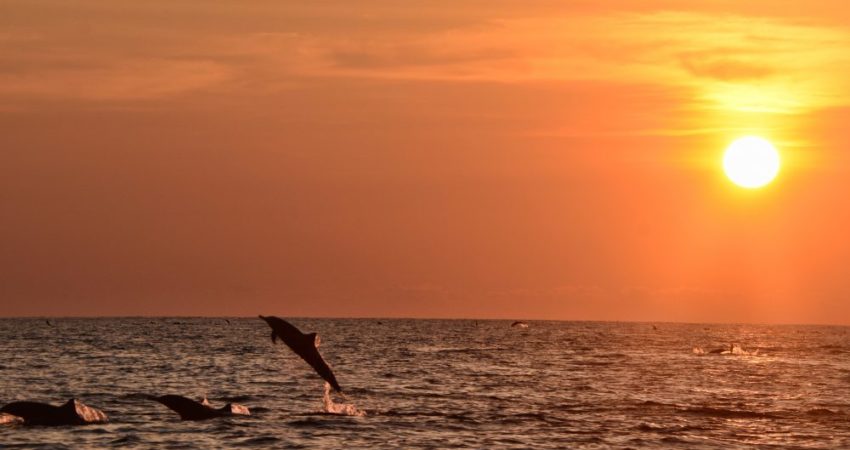 The Dolphin Breeding Ground Debacledolphins deserve our protection, an ongoing petition regarding a new development is misleading, according to the author Todd Staley

This fisherman is about to open a can of worms here for the second time.
The first time was when I agreed with a national legislator who suggested opening the National Parks to sport and small-scale artisanal fishing. Thirty-eight NGOs screamed, "No!" I suggested they open them and charge a fee to fish there to raise money for enforcement patrols, which were, and still, are nearly non-existent.
Here I go again, about to raise the hair on the backs of the necks of many in the environmental crowd. It started when a post hit my inbox with a petition sponsored by Planet Rehab.org on the Change.org website, which allows anyone in the world to start an online petition for free. This petition urged people to help stop a Hilton Curio hotel from being built in Puerto Jiménez, in the country's Southern Zone.
The petition's headline read, "Prevent Hilton from building a hotel on top of a Dolphin Breeding Ground." The sub-headline that followed was a stern message to Hilton which read, "Hilton, we're breaking up with you, so we can save the dolphins before it's too late!" Over 50,000 people have signed the petition, and they appear to be gaining more signatures every day.
A very wise man once gave me some very sage advice when he told me, "Always put your cards on the table, because once they are on the table, they are off the table." So here come my cards.
I am very well-versed on this subject. For the last 18 years I have walked the pier at Crocodile Bay as Fishing Director, sending thousands of tourists out sport fishing. The Crocodile Bay property is the site where the Hilton will be built. I also know the person behind the petition very well. After five decades on the water, I also know a little bit about dolphins.
If you think I am going to defend the Hilton project in this article, you will be sorely disappointed. The developers are big boys and can do that for themselves. Because I spend a lot time working with marine conservation and am employed by the developers, people often corner me looking for my opinion. I have never given an opinion pro or con; it's not my place to defend the project. What I have defended against many times is fabricated statements from environmental zealots who prey on uninformed or uneducated people to support their opinion for whatever their cause is.
The Change.org petition states that the area in question is "essential for the reproduction of many marine species, potentially destroying endemic dolphin breeding grounds and putting all aquatic marine life in imminent danger."
It continues, "This large-scale Hilton Hotel Botanika Resort can only be stopped by an urgent appeal to the directors of Hilton Curio Worldwide, alerting them to the potential damage their project will cause."
The key word in both those statements is "potential." It is a word that can be used as a giant loophole to cover one's tail when making outlandish statements.
Maybe I could post a petition on Change.org to my own advantage. It would read something like this. "Todd Staley is a fisherman and mediocre writer. He has a couple of tattoos and on the weekends when it is not raining, he rides his Harley Davidson. Staley could potentially roust up a bunch of bikers and pillage your pueblo. Please donate today to buy him a new boat to keep him on the water and off the street."
I slowly waded through many of the comments left by people who signed the Hilton petition. After I got through the vulgarities and the threats to never sleep in a Hilton again, I stumbled on some I really liked:
"Please verify the findings on marine biologists for the claim in this petition and look to relocate to a less fragile location."
"This is unacceptable if these dolphins loose there breeding ground were would they Go, for all we know if would take them years or months to find a new place to breed and are dolphins would be more endanger then ever."
"Apparently they ( Hilton) did not research this very well to even think about building on a Dolphin breeding ground."
And my personal favorite, "Dolphins are people too."
Why is that my favorite? Because "dolphins are people too" is a lot closer to the truth than anything else I read. After observing dolphins while fishing for over fifty years, I decided to ask some marine experts, "What exactly is a dolphin breeding ground?" I sought the opinion of a marine biologist, a marine mammal expert, and a woman who has worked alongside dolphins and whales here in Costa Rica for years.
They told me that reproductive habits of dolphins are not defined exclusively by the need to perpetuate the species: like humans, these cetaceans mate for pleasure with individuals of the opposite sex, of the same genus or even a different species from their own, so talking about reproductive habits in strict terms does not apply to dolphins. Some researchers think that their recreational sexuality has social purposes. When a female feels she will deliver her calf, she tends to move away from her pod and separates herself to an area near the water surface to facilitate the first breath of her calf. There is no particular area dolphins go to mate or birth.
There are no dolphin "no-tell motels" or maternity wards. They mate whenever and wherever they happen to be when the mood hits them, and birth wherever they are when the time comes. There is no such thing as a "dolphin breeding ground."
If the people who posted that petition are really just concerned about dolphins, I suggest they push away their tuna salad and worry about the large pods of dolphins that are netted hundreds of times to catch the tuna that swim under them. The dolphins are later released. A few dolphins die in the process; I'm sure the dolphins don't like it. Thankfully, there is a fast-growing trend and demand for sustainably caught fish, and tuna fishermen are beginning to search out selective gear with little or no bycatch.
Anger or fear are great motivators. But in this case, 50,000 people – and counting – have been misled.
I really love conservation work. The politics of conservation can at times be quite frustrating, and the business of conservation can be at times disgusting. NGOs will sometimes work on similar projects but never communicate with each other for fear of losing credit for a success or even potential donor money. If they communicated, they could get things done faster and more cheaply, but conservation and environmental work are sometimes big business. Unfortunately, there are unscrupulous people out there who will misuse donor money or even advertise for fake causes to raise money.
Sadly, this "dolphin breeding ground" petition, and the reaction to it, only fortifies an opinion I have held for some time. That is the difference between a conservationist and an environmentalist: a conservationist makes decisions based on science, while an environmentalist at times makes science based on decisions.
Read Todd Staley's Wetline Costa Rica columns here.
Todd Staley has run fishing sport operations on both coasts of Costa Rica for over 25 years. He recently decided to take some time off to devote full time to marine conservation. Contact him at wetline@hotmail.com.
Read Blog Detail