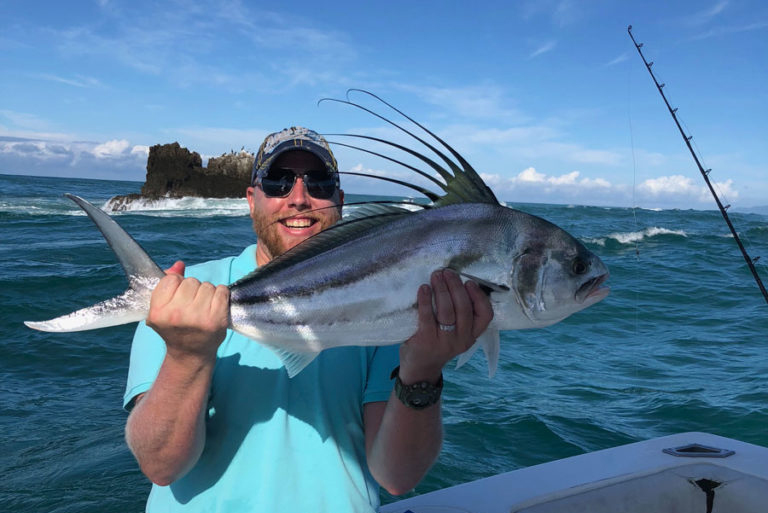 The Costa Rica Fishing Trip of a Lifetime – Review From The Crocodile Bay Resort, Costa Rica 2017 Sweepstakes Winner
Former specialist and now veteran Joshua Cumings and his wife Ashley Cumings won our 2017 all-inclusive Costa Rica Castaway Sweepstakes.
Joshua was born in Grand Rapids, Michigan. He joined the Army in February of 2003 at the age of 22 and attended OSUT (One Station Unit Training) at FT. Leonard Wood, MO to be a Combat Engineer/Demolitions and bomb expert. During his career, Specialist Joshua Cumings served as an Engineer Squad Leader. He participated in Operation Iraqi Freedom and Operation Enduring Freedom. His additional deployments included South Korea as a member of 2nd Infantry Division 44th Engineer Battalion Charlie Rock Sappers Air Assault Company and Kosovo as a member of KFOR (TF Falcon). During Specialist Cumings deployment to Iraq In August 2004, he and his squad survived a severe attack by enemy forces. Due to Specialist Cumings injuries during his deployment to Iraq he was later awarded a combined award of 100 % disability from the Department of Veterans Affairs.
Please read an excellent review by Mr. and Mrs. Cumings about their vacation at Crocodile Bay Resort.
The Trip of a Lifetime!
"When you think of paradise where do you think of, Belize, Honduras, or maybe skiing in the Rocky Mountains of Colorado? Well, let me tell you something I've been to all those places and nothing compares to the gorgeous lush mountains, the vibrant tropical birds and the amazing views you're going to experience at Crocodile Bay Resort. We caught and released over 22 roosterfish, snapper and sailfish. I don't normally go saltwater fishing, but  this was just beyond amazing.
The Resort Staff
The resort staff was out of this world. Olimpia, one of the main concierge's was phenomenal, she was always there to make sure we had everything we needed like a mom making sure her kids had the best time possible. And her cookies are out of this world. Her son Anthony was just as kind and made sure we had a great time doing some charter fishing.
Pura Vida
The locals have a saying in Costa Rica. Pura Vida! The saying simply translates to "Simple Life". In Costa Rica it really is all about the simple and pure life. Everything just kind of slows down when you come to the Osa Peninsula. People here really know how to make you feel at home and treat you like family here. As an American that works an average of 60-80hr work weeks we don't tend to know how to slow down and enjoy the simple things in life. Like just going for a walk down the road and enjoying the wild life and the beautiful scenery.
The Food
The food that we enjoyed at the resort was out of this world. Expertly prepared in traditional plating the chef certainly knows what he's doing. All of the ingredients are locally sourced and always fresh with an amazing flair for thinking outside the box with unique flavors. For example, we had a bowl of the pumpkin crème soup, braised and barbequed pork ribs and a local root that's mashed and tastes like mashed potatoes that have amazing flavor as well as traditional beans and rice and a side salad.
Always going the extra mile!
Our last night at the resort the chef asked me what my wife's favorite dessert was and I told him "Anything to do with chocolate"! He then said to me "I have the perfect dessert for her then that I shall create". The desert that was made was so beautiful I was almost sad to eat it. But then, we took one bite and couldn't stop. From the fresh cream and strawberries to the basil and coco locally sourced for the chocolate lava cake it was all amazing. And just the thought that was put into making our last night special simply put, makes Crocodile Bay Resort the ultimate home away from home destination with every accommodation imaginable.
In closing, if you're looking for a world class resort with one of a kind sport fishing spectacular views, phenomenal customer service, and an experience that is unrivaled in one of the most exotic and beautiful places on earth then Crocodile Bay Resort is the place to go. From a several tour combat veteran and his wife, Thank you so much to the owners and staff for a once in a lifetime experience at Crocodile Bay Resort and until next time Pura Vida!"
Respectfully,Joshua and Ashley Cumings
Baldwinsville, NY.
Win a 5 Night Costa Rica Fishing Trip for Two at Crocodile Bay Resort
Read Blog Detail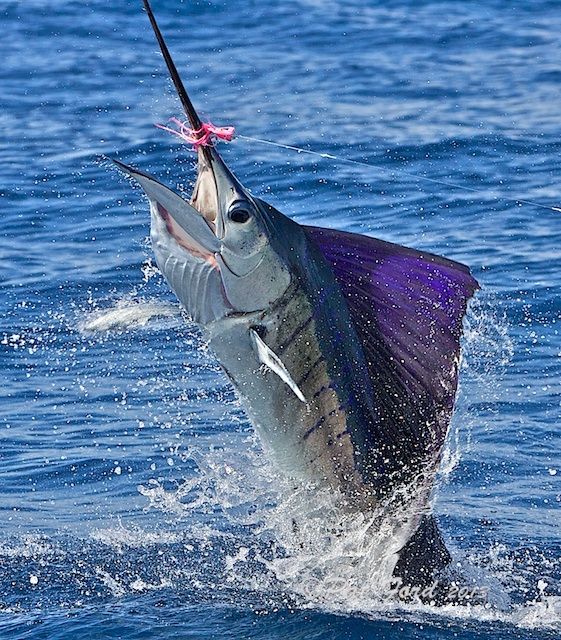 Getting The Most Out of Your Costa Rica Fishing Trip
Thinking about sport fishing in Costa Rica?
Costa Rica is known for some of the best billfishing (sailfish and marlin) in the world. Trolling for sailfish or marlin has a hypnotic effect on one. Staring at six or more brightly colored teasers skipping across an indigo ocean for any period of time almost puts you in a trance. The following tips should help you get the most out of your Costa Rica fishing trip.
That trance is quickly interrupted when a swordsman lit up in a purple hue snaps you back to reality and charges up from the deep, slashing at the teasers. Knowing what to expect before this happens can mean the difference between a missed fish or a date with a ballerina on a cobalt blue dance floor. Be prepared for your fishing trip.
Keys to Success on Your Costa Rica Fishing Trip
If you booked through a travel agent ask for the phone number or e-mail of the  operator, or even the captain and talk to them. Ask what kind of boat you will be on, what type of equipment they use, what methods they use and if it is important to you, what level of English do their crews speak.
Once onboard talk with the crew and ask questions. Talk about your own level of experience. Leave your ego in your suitcase. If your home is full of trophies from fishing tournaments,  but you have never fished sailfish or marlin, let your crew know. Most crews will give you as much or as little help as you want, but you have to communicate that to them.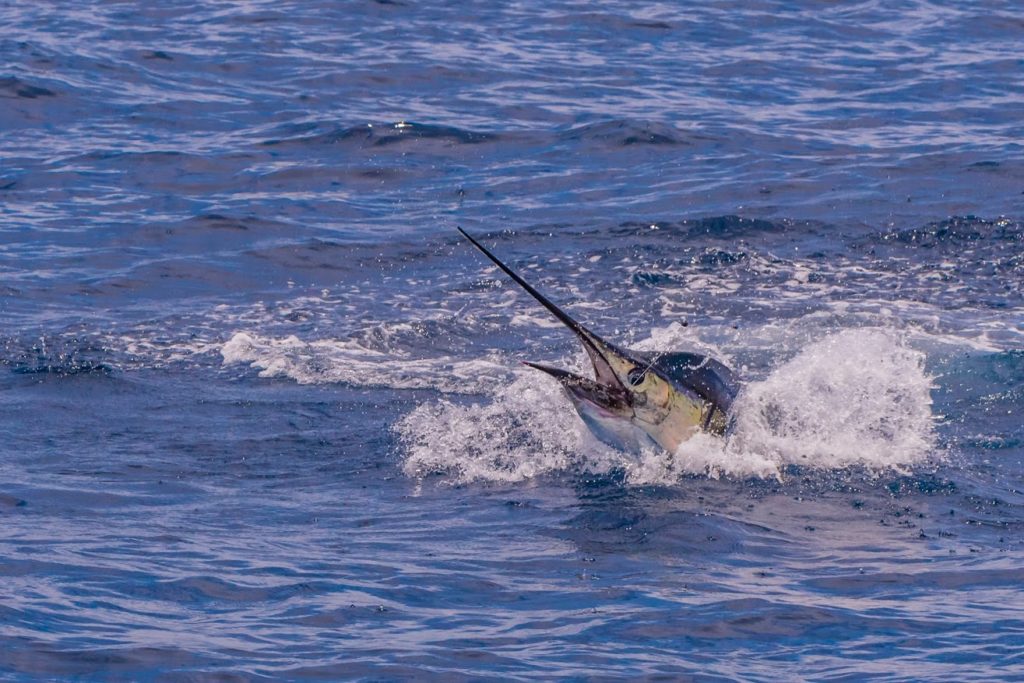 Communication during your Costa Rica fishing trip is VERY important
Almost all captains in Costa Rica use a "bait and switch" method of trolling for billfish. The fish pops up in the teasers and the mate reels in the teaser with the fish in hot pursuit. As the fish moves in closer to the boat, the angler pitches a bait in the water and drops it back to the fish. The teaser is than jerked from the water leaving the bait as the only option for the fish to grab a quick meal. The same method applies to fly fisherman – and if you haven't tried billfish on a fly your literally missing the boat.

You are required by law to use circle hooks in Costa Rica when fishing with live or dead bait. The design allows the hook to set itself without jerking the rod. Actually they are a very effective method of hooking fish while causing the least amount of damage to the fish for a safe release.
Circle hooks are not something new. They have been found made from seashells in the burial grounds of pre Columbian Indians as well as in Pacific coast Native American burial grounds. The Japanese made them long ago out of reindeer horns.
They are really quite easy to use if you plant this in your brain. Crank…Don't Yank!!!   If you are not familiar with circle hooks ask your crew to explain them before fishing.
Communication, both before and during your trip is the key to having a great Costa Rican fishing adventure.  It's your turn on the dance floor.
Want to get more Costa Rica fishing news and project updates in your in-box? Enter your email below!
Related Costa Rica Fishing Articles
Costa Rica's Marine Resources – Sport Fishing Isn't The Problem
Read Blog Detail