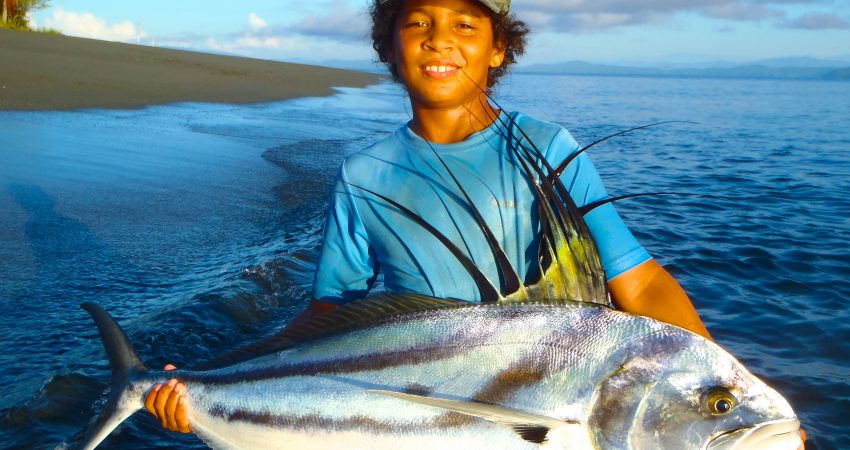 Costa Rica Local Fisherman Profile – The Osa Peninsula's Little Big Angler
Tosh Craig pictured below with Roosterfish
The Golfo Dulce was a big mirror of crimson as the morning fireball rises over the mountains of Panama and painted the sky like a beautiful canvas. The only sounds were the jungle behind Puntarenitas slowly coming awake, the soft slapping on the shoreline of gentle waves and the gurgling of a top-water popping lure being worked by an 13 year old boy. The serenity of this setting is cheerfully interrupted when a 25 lb roosterfish crashes the lure and it is game on.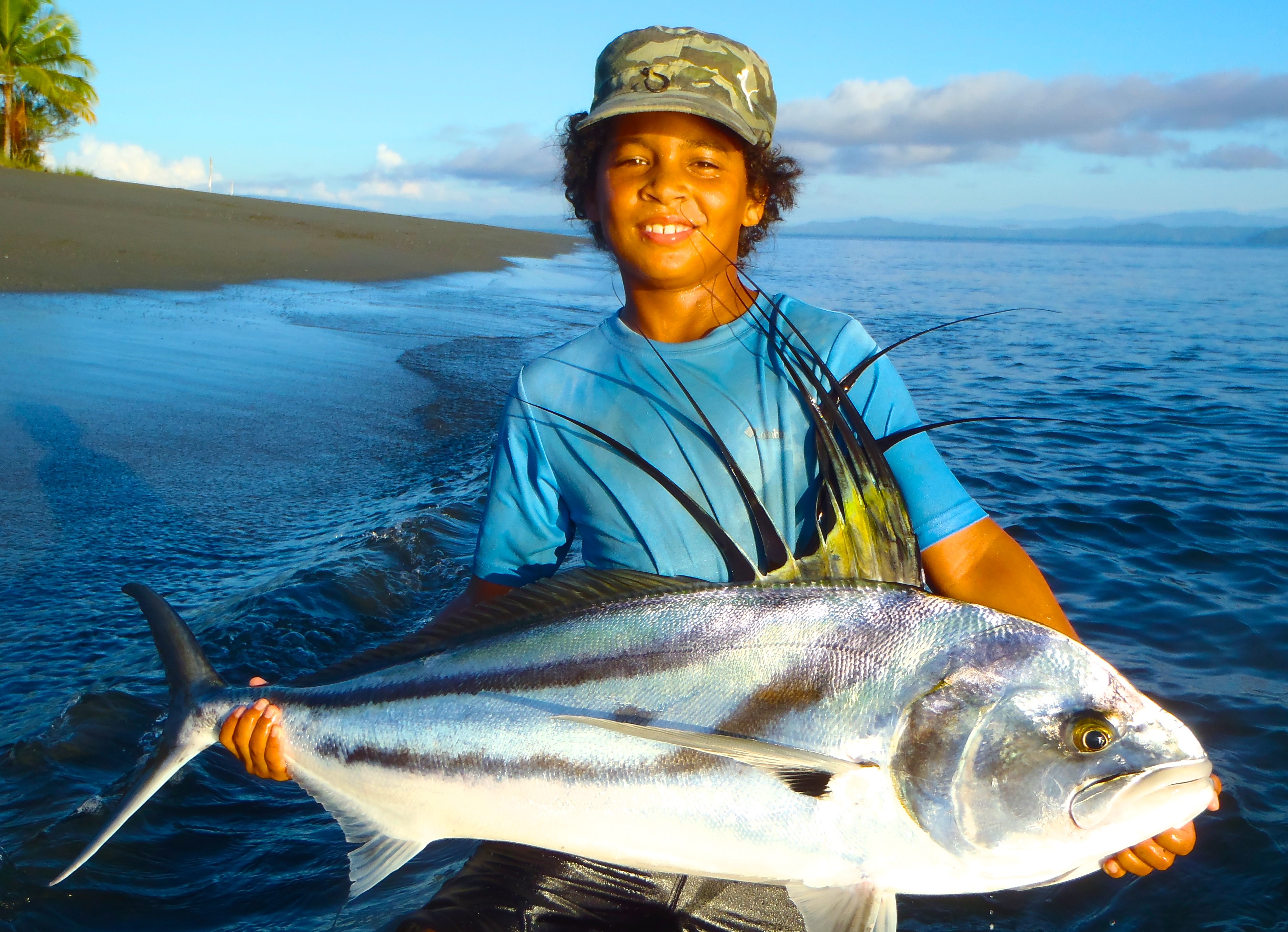 I grew up in a small fishing community in Florida very much like Puerto Jimenez. Miles of isolated beach and mangrove estuary was my playground. Monster snook and baby tarpon were just a cast away. Of course that was 100 years ago and today that stretch of beach is lined with condos. Never in my life, have I had anyone bring back so many childhood memories as when I sat down and had a conversation with (then) 11 year old Tosh Craig.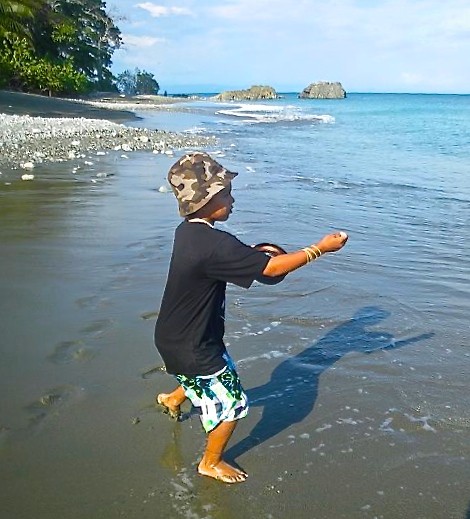 Tosh lives and breathes fishing. From the time he busted out of his walker as a baby, he has been fishing. It doesn't hurt that his father Cory Craig of Tropic Fins is one of the most talented fishing guides in Costa Rica's Osa Peninsula, but when dad is busy with customers, Tosh goes fishing. He is either on the beach casting the surf break alone or with his fishing buddy Anthony Araya, or you will find him on the public pier in town fishing with the other locals. Over time he has become proficient with handline, spinning, conventional, and fly fishing gear which means he is right at home fishing the style of the "locals," or next to an adult tourist sporting a $1000 fly rod.
The check marks on his bucket list would impress even the most seasoned angler. Sailfish, dorado, tuna, a 40 pound rooster, 20 pound cubera snapper, and a 15 pound Colorado snapper taken on a handline. Next on the bucket list is a marlin. Of the array of species he has tackled, roosterfish is his favorite. Available from a boat or the shoreline, roosterfish are one of the most sought after inshore gamefish Costa Rica has to offer. Considered table fare for locals, Tosh chooses to release all the roosterfish he catches.
Tosh and Cory are often up before the sun on the beach casting. "My dad likes to fish for snook, but I would rather catch roosterfish," explained Tosh. "They are stronger and fight better." His favorite method is to use live bluerunners. He has to catch his own and uses a small white jig and if successful casts his live offering out beyond the surf. If live bait is not available he throws poppers on a handline. A slick surface is preferred and the best opportunity for that is early morning.
The fifth grader at Corcovado bilingual school also loves to surf and play guitar. Sounds like a recipe for future lady killer, so mom keep your eyes open. For now the most important thing to him is fishing. Doesn't matter where or what kind of fish as long as it's a challenge. His favorite place to fish is the beach in front of his house running to Puntarenitas. His long term goal is to be a fishing Captain like his father. "Really, I just fish whenever I can". He smiled.
Written by Todd Staley for Coastal Angler Magazine
FECOP strongly encourages parents to get their kids fishing at an early age and teach them the importance of precious marine resources and responsible (sustainable fishing). To learn more about bring your kids on a fishing trip to Costa Rica read this article
Why Costa Rica is the Perfect Destination to Take the Kids Fishing
Get more great Costa Rica fishing articles, project updates and tips and tricks. Sign-up below
More Costa Rica Fishing Features from FECOP
Gray FishTag Recovers a Satellite Tag off the Coast in Costa Rica
Read Blog Detail
Can I take my kids fishing in Costa Rica?
The little Cessna rolled to a stop on the airstrip at Barra del Colorado. Out stepped a man and a young boy around 10 years old. "Welcome to Rio Colorado Bob", I said. With a stern look he replied, "I prefer to be referred to as Dr. So and So." I fed them breakfast and sent them out fishing. Later I saw the boat headed back in early and thought the poor kid probably got sea-sick.
We got the hook removed without too many tears, but the kid had no desire to head back out on the water to chase tarpon with dad. I told dad he would be ok here at the lodge and thought to myself, I wouldn't want to spend all day in a boat with that guy either. A while later I grabbed a couple of small spinning rods and the two of us spent the afternoon catching little snook, roncadors, and machacas off the dock. The kid was in heaven.
Twenty-five years later and I have entertained hundreds of families with kids fishing. The last 18 years at Crocodile Bay. Costa Rica is God's place on earth to spend family time. Jungles, waterfalls, beaches and volcanos are all close to each other. Fishing should never be overlooked as family activity. Costa Rica is the perfect place to introduce your kids to fishing or just enjoy the hobby together. With the world moving fast-forward with fast food, single parenting, and electronic babysitting, family time seems to get scarcer and scarcer.
Mike Pizzi began fishing with us fifteen years ago and has since become a good friend. I have fished him as a single guy, while he courted his wife and again just recently as a family man. As a single guy he always had me in stiches but was not the luckiest of anglers. Although over time he caught many good fish, the grand prize of offshore fishing, the marlin had eluded him. We were sitting one night at happy hour when an elated customer who had never fished before began telling me all about his 500 lb marlin. Pizzi told him how much money he has spent to date chasing a marlin and directed the man to a fiery place where believers say is somewhere below the surface of the earth and people who live unsaintly lives go when they die. The first time Pizzi brought his wife Ann, who was then his girlfriend, she caught two marlins.
Today the Pizzi's have been married 10 years and travel here once or twice annually with their daughter Eloise 8, and son Finn who is six. The kids each started fishing before their 4th birthday and refer to me as "Tio Fish", Uncle Fish. They both have become quite the little anglers. Dad introduced then to fishing the correct way.
Rule #1. When you take a youngster fishing it is their day not yours. It is all about them, not you. If you take them out in the hot Costa Rican sun to watch dad or mom catch a big fish, you really haven't accomplished much. As we know children have a short attention span, and need to be kept busy. In fishing they need action and fish small enough to entertain them, not scare them. Pizzi started his kids out catching bait. They could only handle a few hours on the water when they were small and by catching sardines and goggle-eyes, Pizzi accomplished two things. He showed them fishing was fun and had plenty of bait to use the next day while mom took them to look at monkeys.
By her Eloise's 6th birthday, the kids had enough experience to tackle a full day on the water soaked in sunscreen and were ready for bigger quarry. Bottom fish like small snapper and triggerfish are in great abundance and it kept them busy while also teaching them about catch and release.
Then they were ready for something more challenging that took a little more patience. They started to chase small roosterfish and little yellowfin tuna. By now they were beginning to learn how to play a fish, not fight them and mom and dad were having more fun watching Eloise and Finn than if they were catching fish themselves. This year it was time for the big leagues.
I often have people call me before they come and ask if their 12 or 13-year-old child can catch a sailfish. I tell them they are a few years behind schedule. Costa Rica Sailfish are the perfect fish for a youngster, with close supervision and just a tad bit of help of course. First it is a giant of a fish compared to the size of a small angler and it cooperates very well. Sailfish make one powerful and amazing run putting with an acrobatic show not soon forgotten. Then they kind of just settle in near the surface. With a little support on the rod and the backing down with the boat of a capable captain, a relatively small child can catch a big fish.
Show and Tell will be a little more exciting for Eloise and Finn this year as they both caught their first sailfish. With all the crazy other stuff they did like chasing lizards, monkeys and crocodiles they had a great vacation. The tears in their eyes as they did not want it to end when the left made it all worth it. Mission accomplished mom and dad. Mission accomplished Tio Fish!
Read Blog Detail