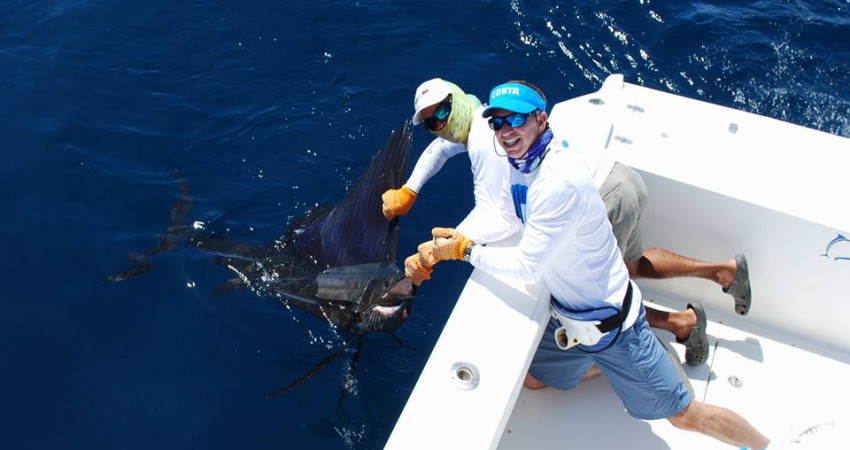 Win a Dream Costa Rica Fishing Trip for Two at Crocodile Bay Resort – We'll even outfit you with AFTCO apparel from "Head to Toe" worth $9,270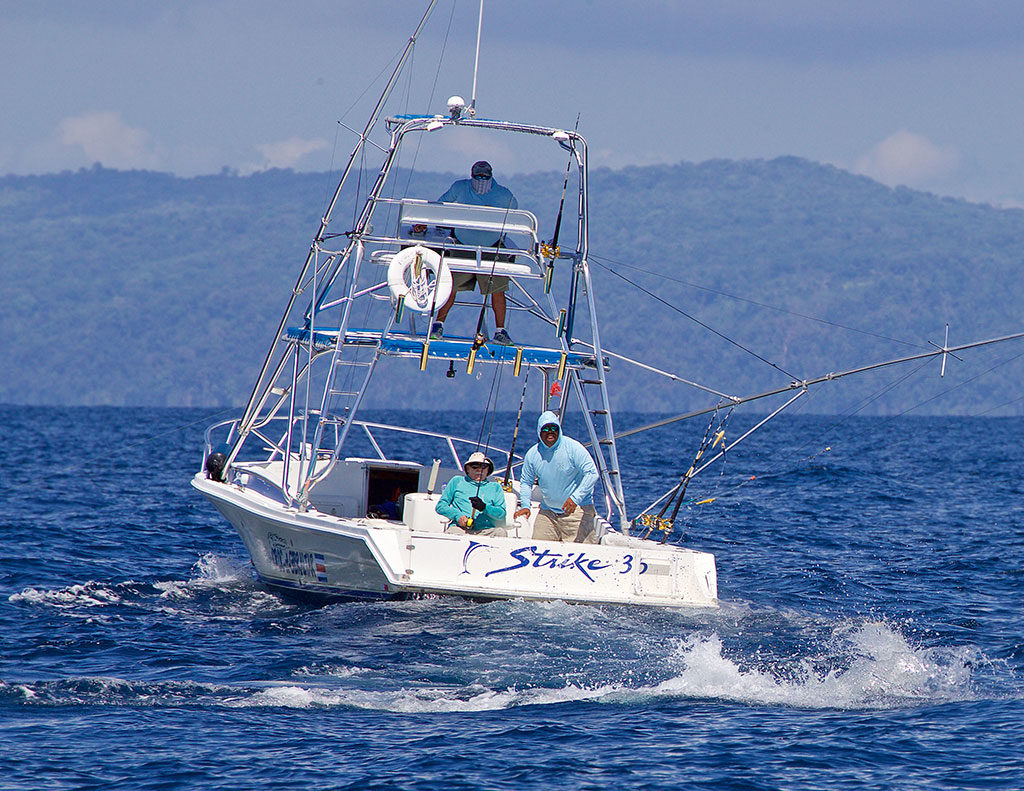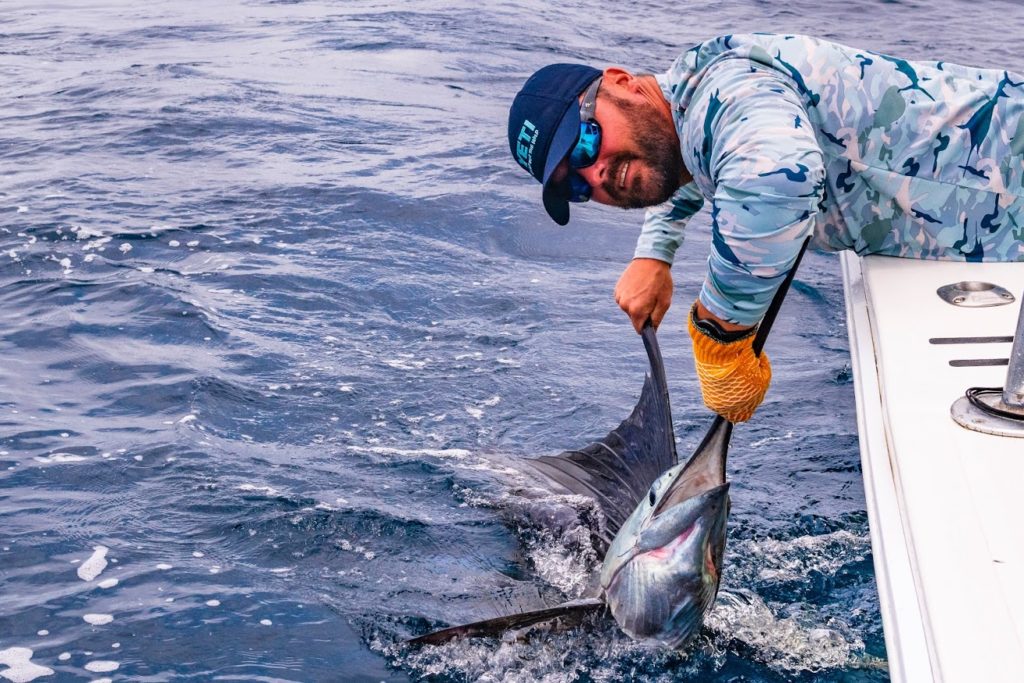 Enter Below for your chance to win a 5 night all inclusive Costa Rica fishing vacation on a 33′ Strike VIP Tower Boat with a full set of AFTCO gear from "Head to Toe". See full package details below

Costa Rica Fishing Vacation and AFTCO Apparel Prize Details:

Wishin' I was Fishin' at Crocodile Bay in Costa Rica
November 24, 2018 thru May 1, 2019
Includes 3 day Tower Boat fishing package and 2 free days to explore one of the most biodiverse areas on the planet, at Crocodile Bay Resort in Costa Rica for 2 people (Total 5 nights at the resort). Plus AFTCO sport fishing apparel from "Head to Toe" for Two. Once you arrive at our front door, enjoy three full days of fishing offshore or inshore on our Tower Boat. Also includes luxurious air-conditioned accommodations, meals, and soft drinks at Crocodile Bay Resort.
Once you arrive at our front door, enjoy three full days of fishing offshore or inshore on our Tower Boat. Also includes luxurious air-conditioned accommodations, meals, and soft drinks at Crocodile Bay Resort.
Retail Value $9,270


AFTCO "Head to Toe" Apparel Package Includes
Void After December 15, 2019 NO VALUE.
Package does not include international air transportation – Juan Santa Maria International airport in San Jose Costa Rica. (SJO), meals in San Jose, alcoholic beverages, or gratuities at the resort. Package also does not include domestic transfer pack. This transfer package may be purchased for $415 per person which consist of ground transfers, round trip *domestic airfare from San Jose, Costa Rica to Puerto Jimenez, and inbound night at a San Jose hotel. * Does not include overweight Costa Rica domestic airfare tickets.
Includes wine at dinner at the resort and cooler with beer when fishing. This trip may be taken April 1, 2019 – December 15, 2019 *
LEGAL RESTRICTIONS:
Other legal restrictions may apply in your country. Winner must be at least 18 years old and hold a passport issued by their country of residence and valid for at least 6 months following departure from this country. Package prize details may change at any time
Read Blog Detail
Ten Principles for Global Transparency in the Fishing Industry
The Environmental Justice Foundation (EJF) has published its 10 principles for global transparency in the fishing industry in a new report.
EJF's report and film asserts that the global fishing industry suffers from a shocking lack of transparency, allowing illegal operators to create as much confusion as possible around their identities; escaping detection by changing vessel names; concealing ownership; flying different flags to avoid detection; or removing ships from registers entirely.

Vessel identification systems – which allow the boats to be tracked – are tampered with, switched off or missing altogether; front companies are set up so that the true beneficiaries of illegal practices can evade prosecution.
These activities allow illegal fishing to thrive, says the EJF. It is estimated that illegal, unreported and unregulated fishing costs the global economy between $10 – 23.5 billion every year and is a critical factor undermining efforts to achieve sustainable fisheries.
Vulnerable coastal communities that rely on healthy fish stocks for food security and income suffer as a consequence. In West Africa, a region with some of the highest levels of illegal fishing, 6.7 million people depend directly on fisheries for food and livelihoods.
Illegal fishing creates a vicious cycle of degradation and decline, says the EJF. As ocean ecosystems are degraded and fish stocks fall, so does income from the vessels. To scrape a profit, unscrupulous companies exploit workers, often engaging in violent human rights abuses and employing forced, bonded and slave labor. EJF has documented shocking abuse aboard fishing vessels across the world – from slavery to murder – all facilitated by the lack of transparency.
EJF's Executive Director Steve Trent says: "The time has come to make the fishing industry open and transparent and to move from words to action. This does not require new, sophisticated technologies, or unrealistic expense. Give vessels unique numbers – like a car number plate – publish license lists and make tracking data public: these measures, along with the few others on our list, are politically realistic, logistically and technologically deliverable right now and, crucially, economically viable. They are within the reach of all countries, today."
EJF's 10 principles for global transparency in the fishing industry state that all countries should:
1.     Give all vessels a unique number.
These would stay with vessels from shipyard to scrapyard, regardless of name or flag changes, and should be kept in a global record of fishing vessels.
2.     Make vessel tracking data public.
This will mean neighboring countries, non-governmental organizations and others can all help with surveillance.
3.     Publish lists of fishing licenses and authorizations.
Who's allowed to fish where? Combined with vessel tracking data this means anyone can monitor and raise the alarm about illegal fishing.
4.     Publish punishments handed out for fisheries crimes
The arrests and sanctions imposed for illegal fishing or human rights abuse on fishing vessels should be public, so offenders can be identified.
5.     Ban transferring fish between boats at sea – unless pre-authorized and carefully monitored.
This practice enables unscrupulous companies to keep workers at sea, unpaid, for months or even years. It also makes the source of the fish, once landed, very difficult to trace.
6.     Set up a digital database of vessel information.
Storing information on fishing vessel registration, licenses, catch and crew is vital, and could eventually enable catches to be certified as fished legally and ethically.
7.     Stop the use of "flags of convenience" for fishing vessels.
Some countries don't properly monitor their flagged fleet, which allows the owners of illegally fishing vessels to remain unaccountable.
8.     Publish details of the true owners of each vessel – who takes home the profit?
False front companies are often used so that the true beneficiaries of illegal fishing are safe from prosecution.
9.     Punish anyone involved in illegal, unreported and unregulated fishing.
Countries must ensure that none of their citizens support, engage in or profit from illegal fishing, no matter where they are, or which flag they are flying.
10.  Adopt international measures that set clear standards for fishing vessels and the trade in fisheries products.
These include the Port State Measures Agreement, the Work in Fishing Convention and the Cape Town
By MarEx .
Read Blog Detail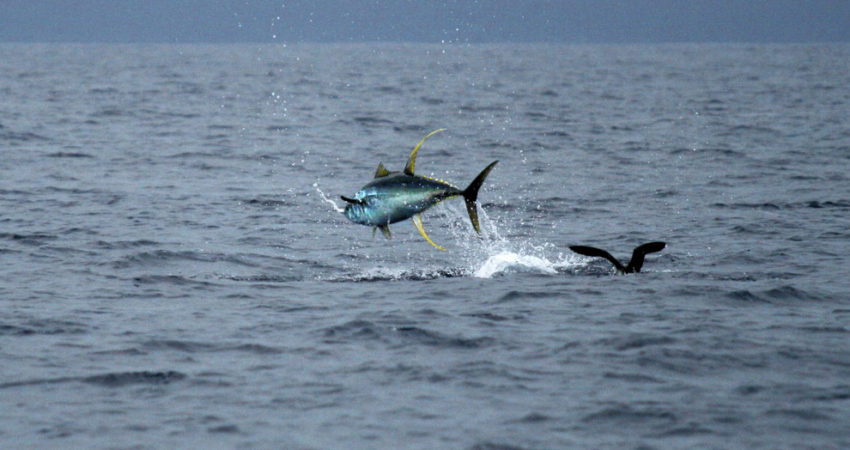 Green sticking or "palo verde" as it is known in Spanish is not a new form of fishing in Costa Rica. It has been used successfully for years in Japan and the United States in commercial and sport tuna fishing. The method allows anglers to target tuna with very little bycatch. It involves mounting a long fiberglass rod, tinted green, on the boat to drag squid lures above the surface of the water. The tuna are drawn to the lures by the commotion of the trailing "bird" teaser lure-weight and competition for food.
FECOP, Costa Rica's sport-fishing advocacy group's Director of Science, Moises Mug, holds a Masters of Science degree in Fisheries Biology and has been studying the tuna purse seine industry since 2001. His work with FECOP persuaded President Laura Chinchilla to sign a decree at the end of her term that moved tuna purse seine operations 45 miles off the coast and protected a total of 120,000 square miles of ocean from commercial tuna fishing. Her predecessor, President Luis Guillermo Solis, published the decree and it became law. Earlier this year Mug's studies helped persuade the government to reduce tuna licenses issued from 43 to 13.
Since late 2016 Mug has led a green-sticking study involving FECOP, INCOPESCA,(the government agency in charge of fisheries), and INA, the technical training institution that teaches different trades in Costa Rica including commercial and sport-fishing as a business. FECOP has spent over $100,000 on refurbishing and outfitting INA's boat, Solidaridad, which was once used to teach longline fishing. The research team will be testing the efficiency, amount of bycatch of green-sticking as well as vertically dropped lines for tuna. Eventually INA will add a "Green-Sticking" course to its fishing trade agenda, training Costa Ricans on their proper use.
In Costa Rica all new or modified fishing rules must be backed by technical support. Studies not conducted in Costa Rican waters are rarely accepted. So even though green-stick fishing has proven successful in other parts of the world as a sustainable method, it has not yet been officially approved for Costa Rica.
"Costa Rica will greatly benefit from the adoption of green-sticking for tuna for the commercial market and sport-fishing as well. The adoption and promotion of green-stick fishing not only will provide social, economic and environmental benefits but will set an example for sustainable fisheries in Costa Rica," Mug says.
Once this project is before the board of directors of INCOPESCA, a decision is expected soon. With the increasing demand for sustainable-caught tuna on the International market, the tuna exporters are also expected to support this license.
For more information, contact: www.fishcostarica.org or info@fecop.org
Read Blog Detail