FECOP Fish Facts – Tarpon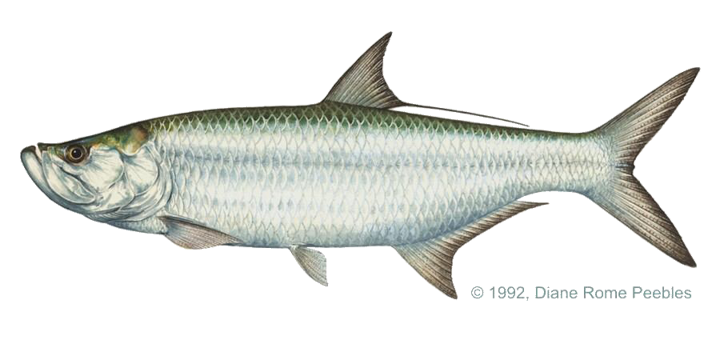 Top 5 Cool Facts About Tarpon
Costa Rica Stomping Grounds
Caribbean side, Pacific Coast of Costa Rica (rarely),can live in both fresh and saltwater and have even been found in Lake Nicaragua
World Record
The all-tackle world record tarpon stands at a monstrous 286lbs 9oz. It was caught by Max Domecq off Guinea-Bissau in Africa on March 20, 2003. If that's not hard enough to take in, try this on for size: prior to that day, Domecq had never caught a tarpon. The near-300lb behemoth, taken on a live mullet, was his first tarpon bite ever. Where do you go from there?
Respect your elders
The oldest tarpon in captivity lived to be 63 years old. So, the next time you're down in the Keys or off the coast of Costa Rica, and you hook one of the big girls, remember, there's every chance you've just attached yourself to something older than you.
The Name Game
Megalops atlanticus is the Latin name for the Atlantic tarpon. But what does that mean? Well, the "atlanticus" bit I think we can all work out. As for "Megalops", that's a combination of two words: "mega" meaning "large" or "extreme", and "lops" meaning "face". Sometimes those Latin names don't seem nearly as clever once you've translated them.
May I See Your Passport

Tarpon are more widely distributed than many realize, and are found on both sides of the Atlantic. They've been found as far north as Nova Scotia and as far south as Brazil. Tarpon have also been discovered in small pockets of Pacific waters – off Costa Rica's Pacific Costa in the South and on the Pacific side of Panama.
Tarpon Video From Tortuguero, Costa Rica by Eddie Brown

Prehistoric Perfection
You have to feel for the tarpon, they're the classic victims of their own success. Just one look at them and you know this is a fish that's been around for a while. Fossilised evidence confirms it – with roughly 125 million years of evolutionary development under their belts, these guys have become one of the ocean's most efficient predators. They thrive in either saltwater or freshwater, they can tolerate oxygen-poor environments thanks to their unique air bladder, they can move at huge speed when hunting prey, and that bucket-sized vacuum for a mouth ensures that when something goes in, it stays in. Ironically, this incredible physiology that has allowed them to survive for so long is exactly what has turned them into such a prized sport fish.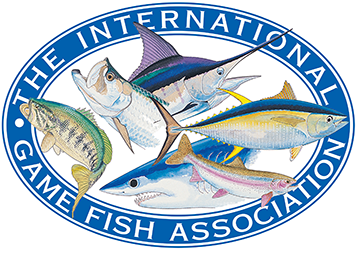 Valenciennes, 1846; MEGALOPIDAE FAMILY; also called silver king, cuffum
Occurs in warm temperate tropical and subtropical waters of the Atlantic Ocean. This coastal fish can be found both inshore and offshore. Because of its ability to gulp air directly into the air bladder by "rolling" at the surface, the tarpon is able to enter brackish and fresh waters that are stagnant and virtually depleted of oxygen. Such areas are relatively free of predators, thus offering a convenient refuge for the young.
The body is compressed and covered with very large scales. The lower jaw juts out and up. The teeth are small and fine, and the throat is covered by a bony plate. The dorsal fin consists of 12 16 soft rays (no spines) the last of which is greatly elongated. The back is greenish or bluish varying in darkness from silvery to almost black. The sides and belly are brilliant silver. Inland, brackish water tarpons frequently have a golden or brownish color because of tannic acid.
They may shed up to 12 million eggs. The eggs hatch at sea and the eel like larvae drift in shore where they undergo a metamorphosis, shrinking to half the size previously attained and taking on the more recognizable features of the tarpon as they begin to grow again. Tarpon, bonefish, ladyfish and eels all undergo a similar leptocephalus stage, but the first three fish all have forked tails even at the larval state, whereas the eel does not. Tarpon grow rather slowly and usually don't reach maturity until they are six or seven years old and about 4 ft (1.2 m) long.
Fishing methods are still fishing with live mullet, pinfish, crabs, shrimp, etc., or casting or trolling with spoons, plugs, or other artificial lures. The best fishing is at night when the tarpon is feeding. They are hard to hook because of their hard, bony mouths. Once hooked they put up a stubborn and spectacular fight, often leaping up to 10 feet out of the water. It was one of the first saltwater species to be declared a game fish
Related Articles:
Are Tarpon Breeding in Costa Rica's Pacific Waters
Read Blog Detail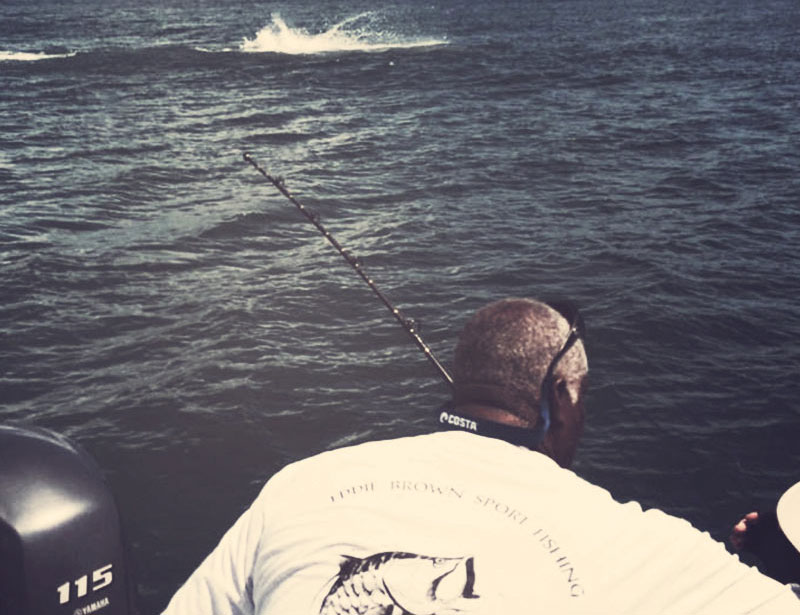 Costa Rica Fishing: King of the Silver Kings
Costa Rica Featured Fishing Captain – Eddie Brown, Tortuguero, Costa Rica
Tarpon schooling on Costa Rica's Caribbean.
As you approach the river mouth at Barra del Colorado for the first time, it appears as if you are about to enter a washing machine gone berserk. The river current pushing out against the incoming waves breaking on the sandbar makes for an interesting combination of a thrilling boat ride that will challenge any Disney attraction. To cross the sandbar, one needs to position the boat as close to the incoming waves as possible and study the series of breakers.  The sets will come with big waves followed by a few smaller waves. That´s when you take your shot, quartering the waves until you are on the outside.
And there is gold on the other side of those hills – or should I say, silver? Silver Kings, or Tarpon by the tons, swim in acre-sized schools, and once you cross the "bar," you are usually met with a fairly calm ocean. On the days the waves are just too big to pass, much of the fishing is done in front of the breakers or up the river.
Eduardo Brown has been chasing tarpon and fulfilling anglers' bucket lists for the last 45 years. Not many people will argue with the claim that he is probably the top tarpon guide in Costa Rica. In the recent Club Amateur de Pesca tournament, he guided his team, which included his wife Cynthia, to 17 tarpon the first day.
Once Brown is on the outside, he will usually head north, sometimes south, along the coast, always on the lookout for rolling fish. When he locates an area that holds fish, he will either have his clients fish with 1- to 3-ounce jigs depending on the speed of their drift, or send a sardine down.For years, fishing was all done with artificial lures, but several years ago anglers started fishing with bait on a circle hook. Various types of sardines are readily available to be jigged up with small gold hooks. No need to worry about a live well, as they work just as well with dead bait.
"The hook-up to catch ratio with lures is about 20 to 30%", explained Brown. "With bait on a circle hook, we are landing 80 to 90% of our bites."
A Costa Rican tarpon will average around 80 lbs, and fish as large as 200 lbs have been taken on occasion. Pound for pound, they are one of the most powerful of game fish and put on a spectacular aerial show.
A tarpon takes to the sky.
This species has no trouble traversing from saltwater to freshwater; they congregate in large schools in the ocean and in smaller groups and singles in freshwater lagoons,  rivers, and creeks. They travel the Colorado and San Juan Rivers from the coast all the way to Lake Nicaragua.
Wherever the tarpon might be, Brown will follow them. He fishes the ocean in a 22-foot open fisherman designed particularly for the Caribbean by Pete Magee, who had his boat building operation in Santa Ana, just west of San José. To get into the backcountry, up the narrow creeks in Costa Rica and San Juan del Norte, Nicaragua, he prefers to use a 19-foot Carolina skiff.
There, he also guides light tackle and fly fishermen for snook and freshwater exotics like guapote, a powerful and colorful fish a travel agent or outdoor writer prefers to call rainbow bass for obvious reasons; mojarra, a large bream-like cichlid; and machaca, a distant relative of the piranha that is of poor food quality but very sporting on light tackle. Brown says the backwaters and creeks are still pristine, but fewer tarpon seem to hang out in the main river due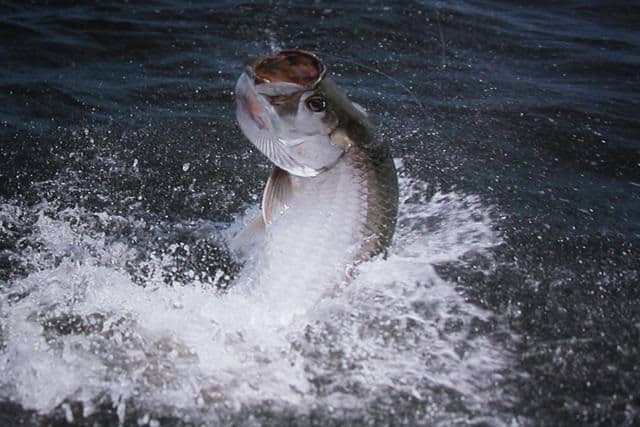 Brown is also one of the few who have experimented with Caribbean offshore fishing. Sailfish, yellowfin tuna, dorado, barracuda and kingfish have been taken from his boat. He has a special knack for taking large wahoo. Large Rapala lures trolled behind his boat usually takes wahoo that sometimes tip the scale at 60 lbs. And he does it in 125 feet of green water, something a Pacific-coast angler probably would not even fish in, preferring clean blue water.
Still, tarpon is his favorite, and he loves taking people to catch their first one. When he doesn't have a charter, you will find him fishing with his family. Ask anyone slightly familiar with Costa Rican tarpon and they will know the name Eddie Brown. He truly is the King of the Silver Kings.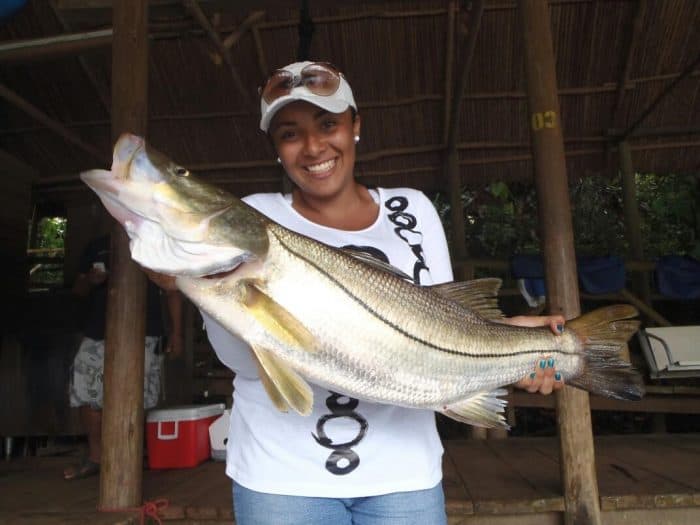 Read Blog Detail
Amazing Costa Rica Tarpon Captured on Video During a Fishing Trip in Costa Rica!
Thanks to Captain Eddie Brown out of Tortuguero, Costa Rica for sharing this EPIC Tarpon footage. This is one of the many reasons why Costa Rica should be at the "top" of your bucket list. FECOP is dedicated to protecting Costa Rica's precious marine resources through educating anglers about sustainable fishing practices. Please join our effort by signing up here – Be part of our collective "voice" for responsible fishing in Costa Rica and across the globe. www.fishcostarica.org | www.fecop.org
Want to see more amazing fishing videos? Enter your email below
Read Blog Detail