A Guide to Costa Rica Fishing Species
Costa Rica is famous for it's diverse fishery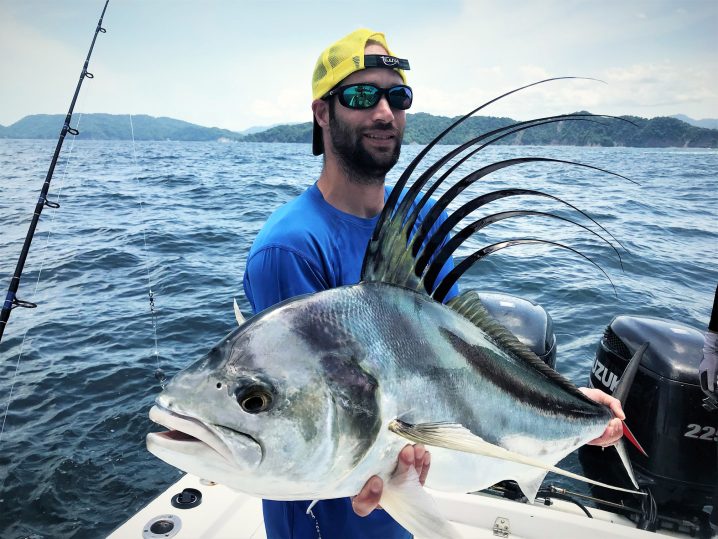 inshore and off. It is in Costa Rica where going inshore for catch and release roosterfish and offshore for sailfish or marlin (billfish) can be accomplished in a single day.
Costa Rica's  inshore volcanic coastline (Pacific side) offers anglers a full on buffet that includes some of the most sought after trophy fish on the planet. Over 10 variety of snapper alone can be found in and around Costa Rica's South Pacific in the inshore waters surrounding places like Puerto Jimenez and Golfito. Another species that draws anglers from around the globe is the coveted roosterfish. Deriving it's name from the spectacular seven spine comb on the dorsal fin, Costa Rica roosterfish average 10 to 15 lbs but individuals of 50 – 70+ lbs are not uncommon in Costa Rica. Roosterfish can be caught year round in Costa Rica. Cubera snapper (See FECOP article How to Catch Cubera Snapper), African pompano, Bluefin Trevally, grouper, mackerel and a variety of jacks round out the cast of characters one can run into while fishing inshore.
The main attraction offshore is sailfish and Pacific blue marlin (learn what FECOP is doing to do to keep billfish numbers healthy in Costa Rica) Anglers don't have to venture far to get into bluewater to catch and release these amazing predators. When the porpoises are running thick schools of yellowfin tuna can caught, and wahoo can also surprise you any day of the week. Check local fishing reports and resorts/lodges to find out when the billfish bite is hot as it varies from the north to the south.
Costa Rica's Caribbean Coast, in the North, is famous for its population of hard fighting tarpon and tasty snook that can be found in and around the river-mouths. Click any of the species below for more information.
Related Articles About Costa Rica Fish Species
Costa Rica Fishing Species Pacific Sailfish
Costa Rica Fishing – Blue Marlin Biology
Costa Rica Fishig Species – Snook
10 Intersting Facts About Tarpon
How to Catch Cubera Snapper in Costa Rica
How and Where to Catch Trophy Roosterfish
12 Facts About Goliath Grouper
Costa Rica Fishing Species Wahoo
Costa Rica Sport Fishing – Where to go, What You'll Find
More Articles