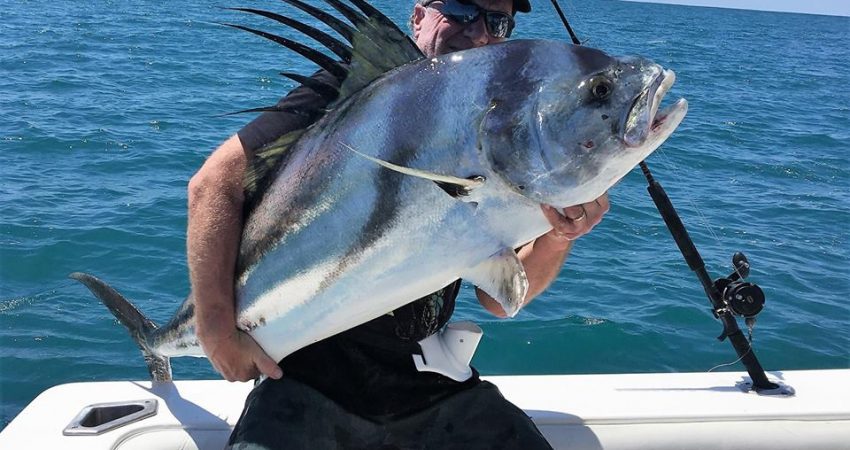 1st International Roosterfish Tournament in Costa Rica

November 16 – 19, 2018 at Crocodile Bay Resort, Costa Rica

Entry Fee for United States Citizens is $1500 per person (including boat and lodging) and 100% Tax Deductible
The Pan American Sportfishing Confederation, FECOP (Federacion Costarricense de Pesca), and USA Angling Predator Team invite you to the first ever Pan American Roosterfish Championship for four-person teams.  This championship will be held at the 4 Star Crocodile Bay Resort on the tropical fjord Golfo Dulce in Puerto Jimenez, Costa Rica .  All Pan American countries are invited to participate.  This event will be part of the Pan American Sportfishing Confederation and will be an exciting competition for all the anglers from the Americas.

We invite you to join us and represent your country at this tournament.  We also encourage all nations to invite our fellow Pan American nations to this event.  There are currently 41 nations participating in the Pan American Games, and we wish to invite them all.
Please review the attached application, competition rules, and event agenda.
Our team of volunteers are dedicated to making the event as enjoyable and exciting as possible.
Tournament Organizer:    
Costa Rica
Todd Staley    +506 8826 9658
USA Angling Predator Team
Tournament Director:
Ben Blegen +1 612 232 3703
Tournament location: Crocodile Bay Resort
Puerto Jimenez, Costa Rica Central America
Crocodile Bay Resort
November 16 – 19, 2018
All banking and transfer fees are the responsibility of the paying attendees.
Wire information will be sent once application is received.
Email the Organizer for Bank Wire Transfer Details document and wire Instructions.
Henry Marin info@fecop.org por Espanol or
Registration Fee due at time of Application submission, by electronic money transfer.
Team Registration closes October 21, 2018.
If you have any problems with payment methods, please contact .
Send application via email BenBlegen@USAPredatorTeam.org copy to Todd@fecop.org
Registration fee for a four-angler team includes:       Based on quad occupancy
Lodging Crocodile Bay Resort… all meals included
Registration
All teams and attendees will be required to register at Crocodile Bay Resort and Resort, sign waivers, and take team pictures.  Please wear team jersey for team and group pictures.
Host Hotel Lodging
Championship headquarters will be Crocodile Bay Resort, Costa Rica
Opening Ceremony
Country Flag ceremony will be at Crocodile Bay Conference Center where teams will enjoy the opening ceremony, festivities, and opening dinner.
Closing Ceremony
Staging, medals and flags at Crocodile Bay and awards banquet at Crocodile Bay Restaurant.
General Rules:
Costa Rica fishing license supplied to all visiting anglers. Copy of Passport ID needed in advance
All fishing done by rod and reel. Only one rod in use per angler at a time. Anglers can use own tackle or tackle supplied by Crocodile Bay Boats for those fishing on those boats.
Casting, trolling with artificial lures as well as live bait and dead bait are allowed.
All fishing done respecting Costa Rica fishing laws including no fishing in protected areas and no treble hooks allowed inside the Golfo Dulce. Circle hooks must be used while using live or dead bait.
Line limited to 30 lb test maximum.
Healthy fish will be tagged and released, and all fish must be measured and released as soon as possible.
Winners determined by team with most overall length of total roosterfish catch as well as anglers with three largest fish. Must have photo of fish measurement to show to judges if required. Captains will be stewards of all measurements.
Fishing area. Anywhere in Golfo Dulce and 25 miles in either direction of Matapalo Rock. Protected areas including National Park excluded.
Points given by fish measurement. (Tip of Nose to Fork of tail) One point per inch. 5 best fish per angler or 10 best fish for team per day.
Other inshore species like snapper, trevally, or jacks will be given 20 points per fish and can be used for teams that do not capture 10 roosterfish in one day
All ties broken by time off catch.
Agenda
Thursday November 15
Arrive to Costa Rica and transferred to hotel in San Jose (double occupancy)
Suggested airport for arrival – San Juan Santatamaria International Airport (SJO) in San Jose Costa Rica. One-night lodging in San Jose and round trip air to Crocodile Bay is included for visitors from other countries individual in package price. If you wish to drive it is 370 kilometers (229 miles or approximately 6 hours) to Puerto Jimenez.  Local phone at Crocodile Bay Resort is
2735-5631
Friday November 16
5:00am – 12:00pm transferred to airport for transportation to Crocodile Bay
7:00am – 4:00pm Arrival and registration
5:00pm – 6:30pm Captains meeting and boat drawing
6:30 – 8:30 Opening Ceremony and Dinner
Saturday November 17
5:30am Breakfast at hotel
6:15am Anglers meet boats at pier
6:30am Boats depart from Pier Day 1 fishing
3:30pm Deadline for arrival at pier after fishing
4:00pm – 5:30 snacks at bar
6:30pm Dinner at hotel and boat drawing for day two
Sunday November 18
5:30am Breakfast at hotel
6:15am Anglers meet boats at pier
6:30am Boats depart from
Pier Day 1 fishing
3:30pm Deadline for arrival at pier after fishing
4:00pm – 5:30 snacks at bar
6:30pm Dinner and awards at hotel
Monday November 19
5:30 – 8:30 Breakfast at hotel
Departure times depend on mode of transportation and may start as early as 6:30am
*What is included.  Transfer from airport (SJO) to hotel in San Jose for International visitors. Transfer from hotel in San Jose to domestic flight to Puerto Jimenez. Transfer by domestic airline to Crocodile Bay. Three days lodging and all meals at Crocodile Bay. Two full days of tournament fishing with boat and area guide, bait tackle and fishing license. Return flight to San Jose and transfer to International airport for departure.
Not included: Meals in San Jose, Alcoholic beverages (except complimentary wine at Crocodile Bay at dinner) and tips for hotel and fishing staff.
Read Blog Detail