Help Stop Illegal Fishing in Costa Rica – Come out and Sign Our Petition!
Petition Signing Locations Now Available Across Costa Rica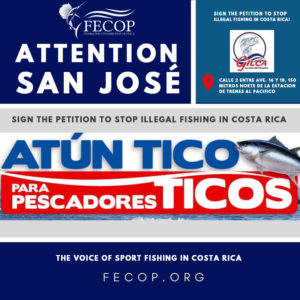 Foreigners living in San Jose with legal residency can now help STOP the Illegal fishing and the killing of sea turtles, billfish and marine mammals by signing our petition. Several local businesses in Coastal areas and the Captial City are offering physical locations to sign the Tuna4Ticos petition. Please have your cedula #id with you for the sigining. Every signature is important to protect Costas Rica's valuble marine resources.
Learn more about our Tuna4Ticos Campaign Here
Locations
San Jose
Calle 2 entre ave. 16 Y 18, 150
Metros Norte de la Estacion
de Trenes al Pacifico
For more location updates and news, join our mailing list below

Related
FECOP and Larry Dahlberg Team up to Create Jobs for Displaced Workers
Read Blog Detail