Pescadora Billfish Championship to support
organization against trafficking of minors
By Didier Fernández
Special sponsored article to A.M. Costa Rica
For the first time, women who love sport fishing will go to sea in a world-class retouch to compete for the title of Best International Fisherwoman during the Billfish Championship, which will be held the next 21, 22 and 23 of February, in Marina Pez Vela. (see complete Costa Rica fishing tournament calendar here)
A portion of all proceeds will be donated to an amazing organization called the Seeds of Hope. They work in Costa Rica on the national and local level to combat sexual exploitation, drugs, violence and trafficking of minors.
The participants will compete in the categories of billfish (sailfish and marlin) and dorado.
"We want to attract woman from all parts of the world who are lovers of this activity, either with us without the experience of the tournament," said Samantha Mumford Pescadora.
The event will start on February 21nd with the registration process during the afternoon and continue with the fishing sessions on the 22nd and 23rd, to conclude on February 23rd with the big award, a trophy for the team winner and for each of the participants in each category.
Within the awards, the teams compete for cash prizes as well.
"After all the billfish releases, a verification is made by means of videos and likewise, the tuna and dorado species will be weighed in the official Roman Navy of the Pez Vela, to carry the count of points. The fisherwoman who gets more points at the end of the two fishing days will be crowned as the best in the world," said Jeff Duchesneau, general manager of Marina Pez Vela.
Currently, the competition has teams of fisherwomen from Costa Rica, the United States, Panama, Mexico, Angola and Canada, although it is expected that open registration will include around 30 or 40 teams to the tournament.
In order to participate, interested women must gather a team of two to five members. Registrations can be made online on the event website: www.ThePescadora.com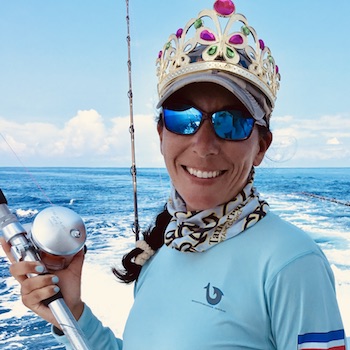 Pescadora Billfish Championship courtesy photo
Billfish Championship, which will be held 21, 22 and 23 of February, in Marina Pez Vela.
This registration includes access to the party to start the event, drinks and food for the whole tournament, a bag for each fisherwoman, a blouse and supplies donated by the sponsors.
"The requirements are to have at least two people per team and a maximum of five, love fishing and come with the willingness to have a good time and make new friends," said Mumford.
In addition to the main tournament, the marina will have other activities that weekend, such as a party to start the event, activities on the docks on the second day and a party during the award ceremony.
To get a special free pass for you and friends to these weekend activities feel free to call me at 506 8310-0337 or email me at didifer91@hotmail.es
---
FECOP and Larry Dahlberg Team up to Create Jobs for Displaced Workers
Read Blog Detail